By Daniel Davidson
The human race has made it to see 2012 come and go even with the looming December 21, 2012 Mayan doomsday prediction.  Therefore, Tactical IP will continue to bring our audience exciting news, information and updates of the intellectual property world, which too has survived the unfulfilling apocalypse.
With the survival of the human race has also come the survival of pirating movies.  The people at TorrentFreak, a p2p news breaker, have compiled a list of 2012's most pirated movies.  The below list can either advocate a position in favor of the 2012 SOPA controversy (which prodded Google, among others, to "blackout" in protest) or clarify that torrent downloading targets bad movies that many are not willing to pay $12+ to see, but have a subtle curiosity for the movie.  In fact, researchers from the University of Minnesota and Wellesley College found that there is no evidence to suggest that BitTorrent causes any decrease in a movie's U.S. box office revenue, but may cause a decrease in revenue in the movie's international box office revenue due to the gap in release dates.   Nonetheless, p2p sharing is recognized by many countries as copyright infringement.
2012's Most Pirated Movies:
1.  Project X
2.  Mission: Impossible – Ghost Protocol
3.  The Dark Knight Rises
4.  The Avengers
5.  Sherlock Holmes: A Game of Shadows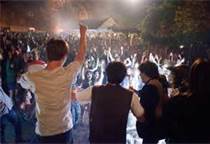 6.  21 Jump Street
7.  The Girl with the Dragon Tattoo
8.  The Dictator
9.  Ice Age: Continental Drift
10.  The Twilight Saga: Breaking Dawn Part 1
Cheers!
Danaher, Brett and Waldfogel, Joel, Reel Piracy: The Effect of Online Film Piracy on International Box Office Sales (January 16, 2012). Available at SSRN: http://ssrn.com/abstract=1986299 or http://dx.doi.org/10.2139/ssrn.1986299