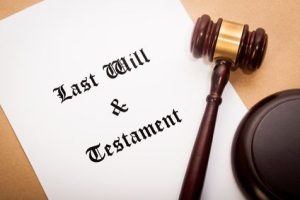 You have worked hard all your life and now you are trying to enjoy it a little more. The children are grown and raising teenagers of their own. You have saved and invested and done ok as far as building something for your retirement. You always heard that hard work paid off and now you know how true it is; it did not always seem like that on those long stressful work days you used to put in all the time. It is the time in your life that you are meant to relax and have peace of mind; a big part of that is making sure everything is in order with your Will.
No one ever likes to think about their mortality, but it's an inevitable thing that can happen at any time and from anything, old age is not the only thing people pass away from. That is why it is so important to have your affairs in order and clearly stated with your desires; it is something that is best not left to the state to decide or anyone else for that matter. An estate is too big and too important to you, your significant other, and your loved ones to leave to chance. There will never be a more important time in your life to get a will professionally and legally done or to redo an old Will that may not cover everything you have accumulated since it was last done.
You can order a Will kit by mail or have some legal professional with little experience in Wills help you, but that is about as wise as having a laborer that does automobile oil changes for a living replace your engine; they may get some things right but it probably won't work when you need it. When something is as important as a Will, it is imperative that it be undertaken under the guidance of a skilled Will lawyer. A will is a legal instrument and as such, you need experienced and professional guidance to construct it in a way that is legally binding and performs as you intended when the time comes.
Nothing will give you more peace of mind than having a professionally done and legally proper Will that protects your estate from going to somewhere or someone you don't want it too. If the time comes and you don't get to enjoy the fruits of all your hard work, then make sure the people you care about most do. Never leave your estate to chance. There is no better time than the present to find a competent lawyer skilled in Estate Planning and Wills to help you put your affairs in order.