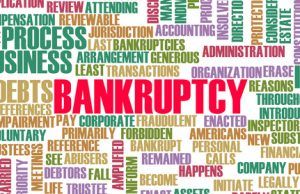 Bankruptcy is a term used to describe a situation where a person or business can no longer pay their debts. Bankruptcy is filed under 3 main types of bankruptcy; Chapter 7, Chapter 11 and Chapter 13.  The bankruptcy laws are used to help a person or business liquidate assets and pay off creditors or enable a payment arrangement.
Bankruptcy is filed in a federal court not on the state level. Each state has a bankruptcy court in their judicial districts. There are 90 such bankruptcy courts in the country. Most of the bankruptcy process is administrative and will not require showing up in court. Filing for chapter 7 will entitle an individual to liquidate assets to pay off debt. If the individual has little or no assets the court may declare them released from the financial debts. Changes in the law in 2005 allowed the courts to look at the income of a person seeking bankruptcy. If that person had an income greater than a certain amount, those financial obligations may not be waived.
Chapter 13 deals with persons who have a regular income. Those filing for Chapter 13 would not qualify under the financial constraints of Chapter 7. These individuals may have found themselves buried in debt and are seeking relief. Chapter 13 will allow a person to keep an asset. These individuals are given payment plans to settle their debt. The financial obligation is waived only after the debt is paid off satisfactorily.
Chapter 11 is used by a commercial establishment needing to go through reorganization to regain financial stability. The court approves a reorganization plan and payment plan. These commercial entities usually are looking to get out from under high cost expenditures and leases. These businesses have 120 days from filing to present a plan to its creditors and the court for approval. The court will determine whether to approve the plan or not.
There are other areas of bankruptcy laws that many are unaware of. Chapter 12 deals with family farmers and fishermen. Chapter 9 deals with reorganization of a municipality. Chapter 15 deals with across the border entities. And there is a bankruptcy law that deals with service members.
Because the laws regarding bankruptcy have changed and are complicated, it is wise to seek counsel from an experienced bankruptcy lawyer. Knowing what to expect and how this action will affect your financial future may mean the difference between declaring bankruptcy or not.