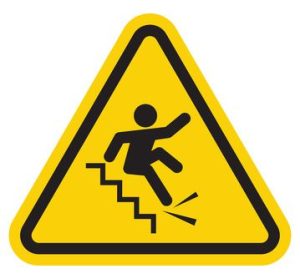 Property owners are normally found responsible for all injuries that occur on their property. This is the case when that property owner knew of the foreseen issue and did nothing to fix it before someone become hurt. Many businesses will purchase signs to use if there are dangers around the business area that consumers will come in contact with. A prime example of this is a Wet Floor sign seen after a spill has been mopped up. Neglecting to place a Wet Floor sign over the recently mopped floor could result in a lawsuit if someone were to slip and fall in that area. That neglect can cause the business and the owner thousands of dollars in medical expenses and lawyer fees.
Slip and Fall: The Floors
Each business has the responsibility of maintaining their appearance. In doing so, they may mop, polish, or wax their floors on a regular basis. However, if someone were to slip and fall, the owner of the establishment could possibly be liable for the incident. Below are a few cases where the property owner would be responsible in the event of a slip and fall.
Providing Signage. If the floor has recently undergone cleaning, the proper sign should be visible to those passing through.
Barricading Problem Areas. When there are large spills that might require the use of other tools besides a mop and bucket, there should be barriers placed around the area to prevent visitors from entering the area and possibly slipping and falling down.
Safe Amounts of Cleaning products. When cleaning the floor, having an access of cleaning products or wax can cause the floor to stay slippery longer. It can also cause the cleaning products to gather in one area. This can cause someone to slip and possibly injure themselves.
Watch Inclines. If the floor has a ramp, slope, or incline, cleaning it can require that area to be closed off entirely until it dries completely. After a polish the floor can become a hazard for those attempting to come down the slope or up it.
Using Non-skid Cleaners. Purchasing cleaners that include non-skid ingredients can possibly be the solution to every business owner's slip and fall problems. Without a slick floor, chances are the number of slip and fall accidents seen will decrease over time.
Another very important part of maintaining a business is making sure that everything is in good condition. With hardwood floors, there might be places where the nails or screws are coming up or a board is broken. This should be immediately taped off and fixed. With carpeted floors, having worn, torn, or bulging areas in the carpet can create hazardous conditions for those walking past or over the carpet. Carpeted floors can also collect items which can go unseen. These items can potentially puncture or injure a passerby.