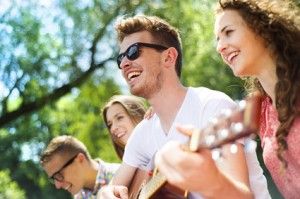 The United States has its own set of quirky laws and rules that people don't always understand, but the United Kingdom (UK) has gone overboard when it comes to "live performance licenses."
The PRS (Performing Right Society) of the UK has taken their performance licensing to a whole new level, and they don't seem to care much about who is affected. Take a moment and ask yourself these questions. Do you like to sing in the shower? What about singing around the house while you're doing housework? Or, maybe singing a song after dinner during an evening stroll? How about listening to the radio while you're talking to your friend on the phone? Well, these might be some activities you should avoid if you find yourself traveling overseas, or you might come home with more than just some nice souvenirs. You might come home with a bill from the PRS for fines and fees stating you violated their "live performance" licensing guidelines.
The PRS was founded in 1914 as an agency to help publishers collect fees for live performances from sheet music. Apparently, if you were performing live and didn't use sheet music, you were in the clear. Then, they needed to ensure that publishers also collected royalties for radio play. So to help enforce this, the PRS (and the same is true for ASCAP and BMI in the States) would charge radio stations an annual performance licensing fee allowing them to play songs as many times as they wanted to without a "per play" fee.
This seemed fair, but then in the late 2000s, the PRS realized that they were losing money with businesses, small businesses at that, when these businesses would play the radio for patrons in waiting rooms. This was lost revenue in the eyes of the PRS. Those people were listening to music, free, and enjoying it too. In fact, a 61-year old mechanic had to pay to play his radio during business hours. A woman who owned a bakery also had to pay to play her music in a private room, and even a woman who used classical music as a therapy treatment for horses had to acquire a license. How does the PRS live with themselves?
Then there was the straw that broke the camel's back. The PRS told a woman who stacked shelves for a living that she would be prosecuted and fined thousands of pounds if she continued to sing without a "live performance" license. After much push back, the PRS did apologize on that one, and sent flowers and a card.
How far will this go? It's understandable that songwriters need to be paid for their work and for giving the world great music that they can sing to themselves or otherwise, but it probably is safe to say that these composers probably never dreamt that what was supposed to be a gift to many has ended up being a bill after a day of enjoyable music.