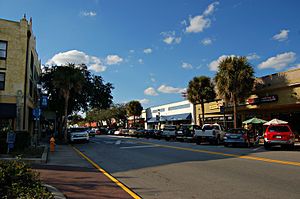 For the 20th year running Melbourne Main Street's "Fall Festival" is just around the corner. The festival is being held this year officially on Saturday, October 5th and Sunday, October 6th (with some pre-events on Friday, October 4th) among the beautiful historic downtown area of Melbourne. On a typical day in the downtown area, visitors can partake in shopping, dining, and even yoga – the fall festival adds to the already vibrant area with live music, family activities, and more food and drinks!
Catering to families, retirees, and young adults/professionals, this festival is the place to be in Melbourne the first weekend in October with over 30,000 people expected to attend. East New Haven Avenue will act as the main thoroughfare for the festival with many of the side streets serving as branches with additional vendors. Main attractions this year include the main stage, the Gen-X Motors exhibit, food court, the Rockstar Energy Drink side stage, and a kids zone.
Previous years vendors and exhibits have included a variety of live music, great food and drinks, various merchants, along with face painting, bouncy houses, and temporary tattoos for kids. In addition to all this, one of the real draws to this festival is the availability of arts and crafts. This year will feature two separate shows: "The Fine Art Promenade" and "Artisans on the Avenue". The "Promenade" will be displaying work from over 150 fine artists who will be competing for at least $3500 in prize money. "Artisans" will be made up of 60 to 70 artisans selling various wares such as decorative art, vintage goods, and hand-made creations. They will be off the main track on Deport Road.
Finally, while the daily offerings are all family oriented, there are evening and nighttime activities more geared for adults. Just off East New Haven Ave, on Municipal Lane, there will be a silent disco. Truly a hysterical thing to behold and an even more fun activity to participate in! It will be running prior to the festival on Friday from 7pm to 2am and again on Saturday from 3pm to 2am. This type of event first debuted at the Bonnaroo festival in 2005 and has since grown in popularity. If you haven't seen or heard of this type of event, participants wear wireless headphones, all broadcasting live music. Those who don't have the headsets will only hear silence so it looks like there are a bunch of people dancing in silence! People watching at its finest.
Make sure to stop by at this year's 20th Melbourne Fall Festival the first weekend of October. Between the food, music, and kids zone – it will be fun for the whole family!