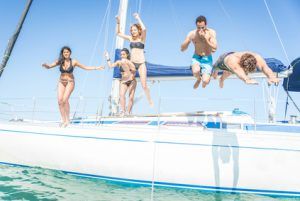 Here's the scenario; you're in a rented motorboat with your family and currently cruising along the St. John's River.  The sun is shining and your family is enjoying this peaceful afternoon as you meander along looking for different species of fish.  You hear a noise in the distance.  It's the noise of another motorboat; this one sounds like it's flying down the river.  You spot it coming directly at your boat.  There are 4 males in the boat and it appears they are all intoxicated.  You also notice they are throwing items out of the boat.  Despite your best efforts, a 16oz beer bottle manages to hit your wife in the head.  She is now unconscious on the floor of the boat.  Meanwhile, another boater has copied the hull number of the offending boat for you and called for help.  Your wife is now in the hospital with a serious concussion and the medical bills are starting to pile up.  What do you do?
This type of scenario is probably played out way too many times around the country.  Intoxicated, thoughtless and reckless individuals cause injuries to innocent people.  When you are faced with a situation like this, the best thing to do would be to consult a local attorney.   An attorney will guide you through the steps you need to do take for any monetary reimbursement you are entitled to.  The medical expenses and any expenses for long term care sometimes can be overwhelming, possibly ruining your financial security.  In addition to medical expenses, if there is a loss of work due to any injuries caused by another party, those wages may also be reimbursed.  Your children who witnessed the incident might need counseling to prevent any psychological damage.
When you contact a personal injury lawyer be sure to bring along any paperwork you may have; like medical bills, accident reports, witness names and phone numbers, etc.  The more information you have the better estimate a lawyer can make regarding any monetary awards.  Keep in mind if you are not local to the area where the injury occurred, there might even be transportation costs that can be reimbursed.  This would include airline tickets, car fees, the cost of hotels and even meals.
Many people don't realize there are laws regarding watercraft and operation of watercraft.  Inexperienced or intoxicated individuals cause the majority of boating accidents.  And Florida has more than any other state in the country.  Be careful out there.  If injured, consult a personal injury lawyer.