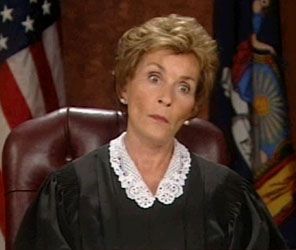 Judge Judy, the well known television jurist who is known for settling small claims lawsuits on her show, but is perhaps better known for her cantankerous attitude and sharp wit has filed her very first civil lawsuit against someone else.  She alleges that a personal injury lawyer named John Haymond of Haymond Law has taken clips from her show and is using them as promotional materials for his law firm.  Mr. Haymond's offices are in Connecticut.
 "RIDICULOUS!" – Judge Judith Sheindlin
Judge Judy has appeared in her own televised show for 18 years and for all of those 18 years, Judge Judy has refused to allow her likeness or show to be used to endorse or sponsor anything other than her own series.  She states that she has always strived to remain unbiased – not just in actions, but also in reputation in order to avoid even the appearance of impropriety.  So when Mr. Haymond started using clips from her shows to promote his legal services in both the Connecticut and Massachusetts markets, Judge Judy got upset and decided to put a stop to it. 
The advertisements allegedly show clips from Judge Judy in such a way that it appears she is interacting with Mr. Haymond's family. By doing so, it appears that not only does she have a personal or professional relationship with Mr. Haymond, but that she is wholeheartedly endorsing Haymond Law.
"You mess around with me, and I'll wipe the floor with you." – Judge Judith Sheindlin
Evidently, the good folks from CBS learned of this alleged trademark infringement back in 2013 and gave fair warning to Mr. Haymond that all advertisements that contain Judge Judy clips, images or likenesses should be pulled immediately.  Although Mr. Haymond initially removed them from television and youtube, they re-appeared again on television in 2014.  It's at this point, Ms. Sheindlin decided enough was enough and took to the courts for redress.
 "Is the word stupid written across my forehead?" – Judge Judith Sheindlin
Ms. Sheindlin seeks an immediate injunction against Mr. Haymond as well as a punitive award of $75,000 because of the irreparable damage to her reputation and prestige.  Should she win, she has stated that all monies will be donated to the Judge's Her Honor Mentoring Program scholarship fund.
"Mr. Haymond is a lawyer and should know better." – Judge Judith Sheindlin
According to the New York Daily News, Mr. Haymond made claims that he believed the clips were properly authorized and that in fact, he felt he and his family were part of a promotion for the Judge Judy television series.  Other news sources state that Mr. Haymond is on vacation and unavailable for comment.