By Daniel Davidson
This election day, Tactical IP would like to share with you that intellectual property even extends its arms into the voting process.  Without intellectual property (maybe a little less "intellectual" property  in the 2000 election with the hanging chads) the election process would not be where it is today.  Below are a few different patents issued for technology that you may run into at your voting precinct.
Robert J. Boram of Pennsylvania invented an "Electronic Voting Machine and System" (Patent No. 4,641,240). Boram's invention provides for "an electronic voting machine which is less expensive, simpler to maintain, lighter ifn weight, and which provides improved security and additional versatility…"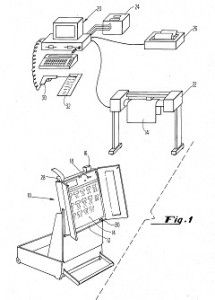 John E. Ahmann of California invented a "Portable Voting Booth" in 1984 (Patent No. 4,445,731).  Ahmann's invention looks much like the booth I voted from today.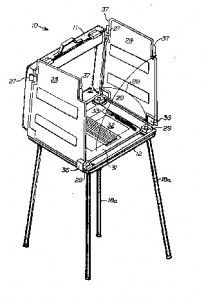 James H. Bleck, Scott H. Wakefield and Stephen A Wagner, all of Massachusetts, invented a "Voting Machine" (Design Patent No. 319,459).  From the look of the figure below, it looks like a machine that would have allowed Luke Skywalker to vote.  This "Voting Machine" was probably good friends with R2D2 and C3PO.
William Spence Rouverol of California invented a "Voting Machine" (Patent Publication No. 2005/0127179) in response to the "chaos" that ensued in Florida in the 2000 election.  In his abstract, the applicant goes on to explain, "[t]o avoid a repetition of that debacle (the hanging chads in Florida in the 2000 election) the applicant herewith submits a disclosure of an improved voting device.  For such an improvement to have the greatest impact, it is necessary to start with the voting device that already has the lowest error rate.  That is the original 'Votomatic,' which has an error rate of 1.2%.  The specification of the accompanying patent application will explain in detail how the two shortcomings of the Votomatic are eliminated in the new device, which is called the 'VoteSure.'"