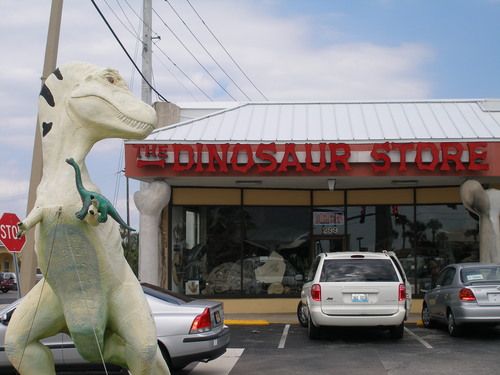 "It's raining. It's pouring. The old man is snoring." Not again – another rainy day. Passing the time on rainy days is torturous, especially when you have a house full of mutinous rambunctious children. Let's face it. Movies may work for the first rain day, but by day two parents are in trouble. What can you do as a family when the rain prohibits outdoor activities?
Visit the Dinosaur Store in Cocoa Beach, FL! The Dinosaur Store highlighted in Southern Living, is a favorite destination for families to visit in Brevard County. It is a wonderful place for children to explore, learn and play all whilst indoors. The Dinosaur Store exhibits one of the largest private collections of dinosaur fossils and minerals in the world. Visitors of the Dinosaur Store have the unique opportunity to see first hand dinosaur eggs, teeth and claw fossils. They can also pan for minerals. But there is more than just fossils that lies within the Dinosaur Store.
The Dinosaur Store hosts the Adventure Zone. The Adventure Zone is a fun, interactive educational place for children to play, think, and learn. The Adventure Zone features the Wild Nile River Ride, a (dry) simulator ride that gives patrons a taste of what it would be like to ride down the real Nile River in Egypt. Along with the Wild Nile, children are encouraged to solve dinosaur puzzles, play video arcade games, hop on simulator bikes, and ultimately just have fun!
And if that is not entertaining enough for say your "too cool" teenagers, there is always the Reptile Run. The Reptile Run is home to several alligators, turtles, snakes, toads and even one African dwarf crocodile named Akila. All visitors have the chance to meet these 25 live reptiles housed at the Dinosaur Store.
Admission to the Adventure Zone is $8.00 for children (2 and up) and $6.00 for adults (16 and up). Admission is free for children under 2 years old. Riding the Wild Nile and panning for minerals are extra services and are not included in the admission price, but are very reasonably priced. To ride the Wild Nile costs $2.83 and panning for minerals is an additional $6.00.
Rain or shine, the Dinosaur Store offers families a fun day of learning and playing. It sure beats another monotonous day of movie watching. Plus it gets the whole family out of the house and spending quality time together. Now isn't that what it is all about? For parents, the Dinosaur Store checks all the right boxes.
Resource:
http://www.dinosaurstore.com/adventurezone.htm