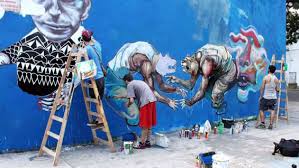 On August 12, 2014, the film director Terry Gilliam was sued over a mural painting in his latest movie, The Zero Theorem. A group of street artists, two from Argentina and one from Canada filed the lawsuit claiming the alleged plagiarizing their mural in Argentina.
The lawsuit was filed in federal court in Illinois and it claims the infringement of a copyright on "Castillo" mural in Buenos Aires, Argentina's capital. The copyrighted artwork was painted by a trio of street artists Argentines Franco Fasoli aka Jaz, Nicolas Santiago Romero Escalada aka Ever and Canadian Derek Shamus Mehaffey, in 2010 on Fitz Roy Street in Buenos Aires. The lawsuit states that the mural is an important artwork that has survived for years in that specific zona de graffiti.
Filmed in Bucharest, Romania, The Zero Theorem, is a sci-fi movie, which tells the story of an eccentric computer genius living in a partially converted chapel. Starring Christoph Waltz as a computer nerd and Matt Damon as his mysterious boss, the movie is set to hit the theaters in September.
The plaintiffs claimed that the mural in the protagonist's living space is an absolute rip-off of their distinctive artwork. According to them, since the mural is being used as an essential part of the production design, it is almost impossible to remove the infringing elements from the movie. A comparison of the plaintiff's work and design on building as actor's chapel are included in the complaint.  The artists added that the defendant director was previously involved in another similar court action when Gilliam's "Twelve Monkeys" was sued by artist Lebbeus Woods for borrowing his work the "Neomechanical Tower."
Based on the comparison of minute details, it is said that the murals allegedly look like carbon copies. The film makers copied the main elements of the artwork and arranged them in a slightly different arrangement and changed the blue backdrop from artwork to red background in 'Qohen's chapel'.
The plaintiff wants Gilliam's movie impounded. Alleging consumer fraud, copyright infringement and unfair trade practices, the three artists seek an injunction against the movie. Jami Gekas of Foley & Lardner, the artists' attorney added that it was a case of deliberate copying. The mural painting is in Buenos Aires and the film was shot around Bucharest with a recreated copy of the artwork on the sets, without sparing even the minute details.