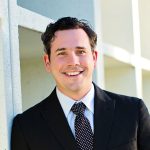 The short answer is rarely, if ever, can an agency say "no" to a public records request.  The only real constraints or limitations that a person should face when asking to inspect or copy public records are guided by Section 119.07(1)(a), Florida Statutes.  This statute limits inspection or copying to "any reasonable time, under reasonable conditions, and under supervision."   Otherwise, there should be no denial of a public record to anyone with a few caveats.  First and foremost, the request has to be for an actual public record, not just any document.  Although there are several points that could be made here, just a few are discussed below.
The government cannot deny a person's request simply because they are a fanatic, harasser, or annoying so long as they are not breaking the law.  A defendant can make tons of records requests even about a victim in the case.  They cannot allow only the right to inspect public records while denying a person the right to copy them.  Both inspection and copying of public records are allowed.  This does not mean, however, that a fee for the copy is not allowed, so long as it is a reasonable fee.
No motivation, interest, or purpose has to be explained by the person making a public records request.  A person can use them for virtually any lawful purpose.  This does not, however, allow a person to use the records improperly, such as using a person's personal information to commit fraud or to harass someone.  Similarly, a person is not required to provide his or her name or other identifying information unless otherwise required by law.
The public agency cannot "hide" public records by giving them to someone else.  The custodian still has to make public records, that would otherwise be under his or her control or possession, available to the public.
With the exception of the judicial branch, requests do not have to be in writing so long as the request sufficiently identifies which records are desired.  The custodian may be required to create written documentation of the request if the public agency feels written documentation is required, but the public agency cannot force the citizen to put the request in writing.  So a person cannot be required to fill out a form.  Although public records requests of the judicial branch, i.e., of a state court, must be in writing, the custodian should aid the citizen making the request if need be.
There are also limitations that a citizen must accept.  For instance, the custodian of the records is allowed a reasonable amount of time to prepare for a citizen to inspect or make copies, but the custodian cannot be dilatory in his or her response.  Additionally, the custodian must be allowed to make provision for inspection or copying  thereby accommodating the citizen while protecting the records.
There are some misconceptions about who is not entitled to inspect or copy the records so I will try to clear a couple of those up as well.  Public employees, out of state citizens, cities, counties, persons with no mailing address, and criminals are all able to request to inspect and copy public records in Florida.
If you need assistance with the Florida Public Records Law, feel free to contact me. You can also follow me on Twitter, LinkedIn and Facebook for even more information.