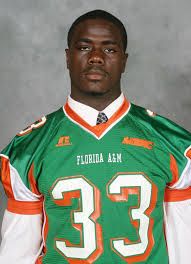 The family of Jonathan Ferrell has filed a civil lawsuit against those they believe were involved in his death. In September 2013, the 24 year old Ferrell was driving home from dropping off a friend, when he drove off the road and into an embankment in a suburb outside Charlotte, N.C. Unable to open the car doors he kicked out the back window and made his escape from the vehicle where he would have otherwise been trapped. With his cell phone still in the car, the A&M football player walked half a mile to find help in one of the nearby homes. He knocked on one of the first doors he came upon, hoping to get some assistance and instead, was met with opposition.
The woman on the other side of the door initially mistook Ferrell for her husband. However, as he approached, she realized she did not recognize him and thought she was about to be robbed. Having the safety of her 1 year old child in mind, she quickly hit the panic button and called 911. Ferrell yelled to the woman to turn the alarm off, but not knowing this person and his intentions, the woman waited for police. Ferrell left to find help elsewhere.
Police arrived on the scene and rather than questioning the woman to learn more about the incident, they immediately started searching the area for Ferrell. Ferrell had never been reported as harming the woman in any way, and certainly didn't exhibit any behavior that would have led the officers to believe he would act in a way that was violent. We should also mention that Ferrell was completely unarmed. Despite these circumstances, Randall Kerrick found Ferrell and "in direct violation of CMPD regulations, fires 12 high-velocity bullets at Jonathan, striking him 10 times in the chest and arms", as outlined by the lawsuit being filed by Ferrell's family. The lawsuit is taking place after an investigation was conducted and it was determined that Kerrick had unlawfully discharged his weapon.