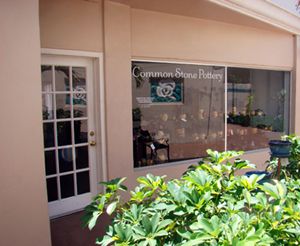 Former British Prime Minister, Margaret Thatcher famously quoted, "It used to be about trying to do something. Now it's about trying to be someone." She is right. Too many people focus their energy nowadays on their self image instead of what they can do. But that concept is changing back. There are a few people like Deborah Speer, local owner of The Common Stone Pottery, who still practice and teach others the concept of doing something, rather than being someone. In her work studio located on 819 E. Strawbridge Ave, Suite #4 in Melbourne, FL, Deborah teaches the art of pottery to anyone who wishes to learn. If looking to do something creative, this is the very place to be.
The Common Stone Pottery offers pottery wheel classes several times a week for beginners, intermediate, and the advanced pottery makers. Debra's courses include six sessions each that run two hours long. During the first four classes students learn to center the clay which is surprisingly the hardest part of pottery making. But need not worry! With Deborah's ten years of teaching, you are sure to master the skill. Students make an array of mugs, plates, bowls and pots during the first four classes. Her last two classes of each course are dedicated to learning under glaze finishing techniques. Upon completion of the course, the average student typically creates 15 to 20 beautiful pieces. Talk about doing something
Deborah's idea for the pottery store began all with the concept of ordinary people doing extraordinary things. In her own way, she follows Margaret Thatcher's opinion that doing something is better than being someone and after looking her work I must say she is onto something. The course costs $175 and includes up to 25 pounds of clay along with tools and material to complete the pottery. Space is limited as there are only six students per class size. If interested in reserving a spot contact Deborah at (321) 956.6930 and leave a deposit of $50 to hold your space. The remaining balance is collected at the first class.
The Common Stone Pottery is a place to relax, have fun and be a bit whimsical. It is a place where symmetry is thrown out the window and wonkers are welcome. Deborah, herself questions "Does everything have to be so symmetrical? Are things that are a little bit wonkers more interesting?" Whether you create a piece to the standards of Warren Mackenzie or a quirky lopsided wonker, all the pieces will be extraordinary, after all this is the place where ordinary people do extraordinary things.
http://www.commonstonepottery.com/