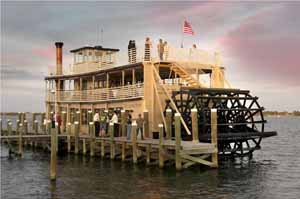 Visitors travelling over the Hubert Humphrey Bridge on 520 in Cocoa slow to a crawl when their eyes rest upon the "Queen" perched at her dock. The Indian River Queen is truly a majestic sight to see. The Queen stands out with her bright red paddle wheel and shiny black chimney. When visitors see this steamer, it beckons them to come aboard.
Native Floridian Penny S. Flaherty purchased the Indian Queen Riverboat back in 2004, shortly after the steamer was used in the action packed movie "Out of Time" starring Denzel Washington. Built in 1984, the vessel was in need of some TLC when Penny took over ownership. Penny and her crew spent two years lovingly restoring the beautiful triple deck riverboat to make her service ready. And service ready the Indian River Queen is!
Guests can book two hour dinner sight seeing cruises on Friday and Saturday afternoons. While leisurely chugging up the river, guests dine on exquisite cuisine catered by the Black Tulip. The Black Tulip is a local fine dining restaurant in Cocoa celebrating over 32 years in business.
While dinner cruises are popular, the main use of the vessel is for weddings. Penny and her crew offer couples the romantic wedding experience. The Indian River Queen boasts a full service bar, catering station and an air conditioned function room affectionately called "The Queen's Room" that accommodates up to 85 guests. Couples can chose from a range of different wedding packages offered by the Indian River Queen.
The Indian River Queen also has recently partnered with the Historic Derby Street Chapel to give couples a church wedding and river cruise reception package. "Even though the Indian River Queen is a perfect venue to host an all inclusive wedding ceremony and reception, there is the occasional bride who has dreams of being married in a quaint little chapel. The Derby Street Chapel is just perfect! " said Penny.
Besides weddings the Queen stays busy as a venue for private parties and corporate networking events. Holiday parties and themed parties are huge hits on board the Queen. Who doesn't like partying like a pirate for a night on the Indian River?
Whether enjoying a dinner cruise, celebrating a wedding, or networking with colleagues the Indian River Queen offers fun for everyone. The Indian River docks at the Cocoa Village Marina in Cocoa, FL and operates year round. For more information about their services, visit Indian River Queen Cruises.