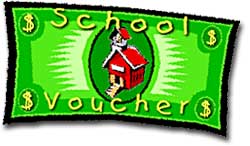 Schools vouchers have long been a hot topic of conversation.  Politicians use school vouchers to help win votes, educators and local governments rally against the need for school vouchers and parents are everywhere on the spectrum.  Vouchers have also long been part of courtroom contentions for many years.
Let's look at a few of the cases happening today around the country:
Louisiana: Louisiana implemented a voucher program in 2008 on a limited basis and was fully implemented throughout the state in 2012.  In this program, students in schools that don't meet minimum requirements would be provided vouchers to attend private schools completely free of charge to the student or his family. 
The latest news is that in November of 2013, the Department of Justice officially dropped a pending lawsuit.  In this suit, they alleged that federally required racial desegregation efforts would be interrupted.  Although the suit was dropped, the DOJ is now requesting federal oversight into the Louisiana program, which almost certainly will lead to additional court action, as the Louisiana governor doesn't seem inclined to acquiesce to the request.
Indiana: Although no lawsuit has yet been filed, it's been reported by local Indiana media that at least one is on the way.  At issue is the fact that school vouchers are used to send school children to private schools, including religious schools.  These religious schools may teach creationism or intelligent design, which are specifically forbidden in public schools.  Since taxpayer collected monies are used to fund these vouchers, the question has been raised regarding separation of church and state.  Another, similar question is raised asking if it's fair that taxpayers fund religious instruction, such as Bible classes.
Most people believe that once the lawsuit is filed and accepted, it will be successful in redefining Indiana's voucher program and may even limit the curriculum taught at private, religious schools that are receiving state voucher money.  However, the biggest issue may be in finding someone who has standing to bring the lawsuit, as most parents who use the voucher system chose the school their child attends and would therefore, probably not file suit.
North Carolina:  A new law was recently enacted in North Carolina that would provide grants to low-income children in order to attend a private school.  The North Carolina Association of Educators filed suit and the first hearing was scheduled for February 17, 2014.  The NCAE states this program constitutes a "voucher" program, which would use taxpayer funds to send children to schools that do not have to meet minimum education standards as set by the state.  The defendants in this case are claiming they have every right to use the scholarship money to send their children to schools that provide a better education than the local public school.
The North Carolina scholarship program is scheduled to begin March of 2014.