On Thursday, May 9, 2013, members of Widerman Malek, PL proudly attended the Sentinels of Freedom, Space Coast Chapter fundraising banquet.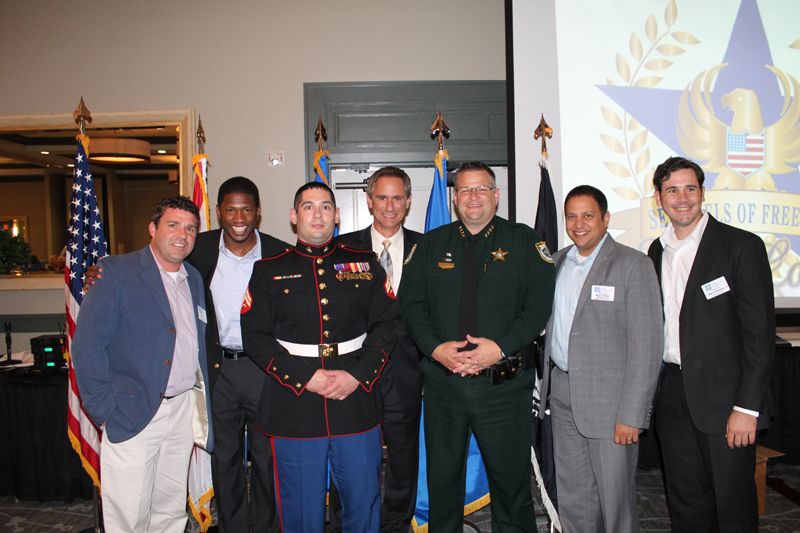 The Sentinels of Freedom is an organization that helps our injured veterans bridge the gap between injury recovery and adjusting to life with a severe injury.  The Sentinels of Freedom provides four-year life scholarships to help severely wounded vets become self-sufficient. Our vets are finding that once they are released from the hospital, they face the everyday hardships of finding a home, continuing their education, or going to work to support their families. Every American faces the same difficulties, but in the vet's case, the situation is made more difficult because of their sacrifice. The Sentinels of Freedom is an organization that eases the burden on our injured vets, and WM has been proud to support their efforts for many years.
Pictured above are Mark Warzecha, Cpl. Robert Smith, Brevard County Sheriff Wayne Ivey, Mark Malek and Mason Williams.  During the event, we were pleased to hear the announcement that Cpl. Smith, a wounded combat veteran, will be entering the police academy at Brevard Community College, on a full scholarship generously provided by BCC and has a position with the Brevard County Sheriff's Office waiting for him upon graduation. 
We applaud the support of the Brevard County Sheriff's Office and especially thank Sheriff Ivey for his continued support of our entire community.  We also thank Dr. Jim Richey and everyone at Brevard Community College for their continued support of veterans like Cpl. Smith. To find out how you can join WM in supporting the Sentinels of Freedom, or to simply make a donation to help the Sentinels continue its mission, please click here.