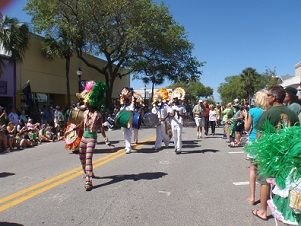 It that time of year we see the Brevard Police and Fire men and women proudly playing their bagpipes in the streets.  Guinness beer is flowing freely from Meg O'Malleys' taps, and happy feet are merrily river dancing down E. New Haven Avenue.   Yes, St. Patrick's Day is just around the corner!  Are you as excited as me?
The second annual Great Irish Fair kicks off on March 15th and will continue until March 17th.  Three whole days of fun filled entertainment!  Meg O'Malleys, a proud sponsor of St. Patty's Parade and Fair, offers a delicious Irish breakfast starting at 8am on St. Patty's.  Following breakfast, celebrators are treated to an impressive list of live performing bands playing traditional Irish songs and choreographed Irish dancing.
The St. Patrick's Parade, also sponsored by The Ancient Order of Hibernians, begins at 11am on March 17th in downtown Melbourne.  The Ancient Order of Hibernians is the oldest Irish Catholic Fraternal Organization in the United States, founded in 1836.  If you see any active order members, be sure to wish them a Happy St. Patty's Day.
Free parking is available on side streets, but there is also a downtown parking garage.
The parade is the perfect event to bring the kiddies to as candy and other goodies will be thrown out by the passing floats.  Children have the opportunity to dress in their "Irish Green" and wear leprechaun hats.  The family and you can also try traditional Irish dishes such as Bangers and Mash, Shepard's Pie, and Corned Beef and Cabbage.
This holiday is a sure way to spend quality fun time with the whole family.  Come celebrate with the rest of the Melbourne community and may the luck of the Irish be with you!