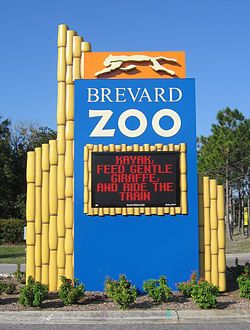 As the summer heat makes itself at home in Melbourne, take the family out to play at night at the Brevard Zoo. This weekend continues the zoo's annual Summer Saturday Nights, from 5pm to 9pm and it will continue every Saturday through July 27th. Admission is $6 (members of the zoo get in free) after 5pm and the last admission is at 8pm. Tickets can be purchased ahead of time online. During Summer Saturday Nights, most of the zoo animals will remain on exhibit until dusk and there will be a special "animal encounter" at 7pm. Kayaking, train rides, and feeding the giraffes will be available for an extra charge. Paws On Lagoon will also stay open until 7:30pm.
In addition to all the great activities offered, each event also includes musical entertainment from 6pm to 8:30pm. The bands include The Jacks Band (June 15th, classic rock), HairPeace (June 22nd, acoustic folk/rock/bluegrass), Brevard Symphony Orchestra (June 29th), Smoke n'Oak (July 6th, acoustic), Honey Miller (July 13th, surf/indie/blues), Different Worlds Band (July 20th, rock/soul), and Oceans (July 27th, acoustic/alternative/folk/pop/classics).
If parents are looking for a night out, kids can participate in the Summer Saturday Night Hike Adventures. There are three different hiking trips offered: Nocturnal Creatures, Florida Friends, and Tricky Tracks. They all include games, dinner, and a chance to play in the lagoon. The Night Hike is offered as an overnight trip on June 21st and July 19th. Various pricing and age ranges apply for the Hikes, all the details, including pricing, can be found on the Brevard Zoo website.
As the Brevard Zoo is a non-profit, it has enjoyed sponsorships and community support since it was built by over 16,000 people in 1992, these events are no different. Some of the sponsors for this years Summer Saturday Nights include Florida Hospital for Children, Radio Disney, Bright House Networks, CERTON Safety-Critical Engineering, Walmart, and Pepsi. With the help of these sponsors and its patrons, Brevard Zoo is meeting its mission of offering special opportunities for the community to experience nature.
So if you are looking for something special and unique to do with the family take a trip to the Brevard Zoo and check out Summer Saturday Nights! Whether you enjoy live music, zoo animals, or maybe a little kayaking, there is no shortage of excitement and ways to make lasting memories with the family.