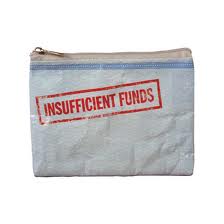 Banks and mortgage companies hoping to avoid further negative press suffered yet another embarrassing setback last month when the first compensation checks issued to victims of foreclosure abuse bounced.  As part of the foreclosure abuse settlement, federal regulators worked out a deal between 14 mortgage companies and banks to compensate home owners who were illegally foreclosed upon during the peak in 2009 thru 2010.  During that time, banks and mortgage employees inundated with foreclosure paperwork engaged in illegal behavior to speed up the foreclosure process.  Employees faked signatures and signed off on documents without reading or verifying them.  These tactics caused approximately 4.4 million homeowners to lose their homes.
After two years of negotiating, a deal was finally reached to pay out $1.5 billion in cash payments to these homeowners.  Unfortunately Rust Consulting, Inc., hired by regulators to handle the distribution of the money failed to transfer the funds in time to the bank that issued out the checks.  The situation has since been corrected and pay outs cashed but the mistake has damaged the reputation of all parties involved and added unnecessary frustration to people who have already been through enough disappointment.
Adding insult to injury, the average pay out check is reported to be less than $1,000 for each foreclosure case.  It is of little comfort for those who lost their homes and life savings.  Victims of foreclosure abuse can still try to seek compensation through private legal action against their banks.  In the meantime, they will have to make do with the minimal compensation check.
The only silver lining to the deal is it also designed to help homeowners currently trying to avoid foreclosure. Under the agreement, an estimated $17 billion dollars in principal reductions and modifications must be shaved off homeowners' mortgages.  This means the average eligible homeowner can trim another few thousand of their mortgage debt.  Homeowners that also owe more on their mortgage than what their houses are worth can refinance.  To find out more about the settlement details visit the National Mortgage Settlement website.  http://www.nationalmortgagesettlement.com/about