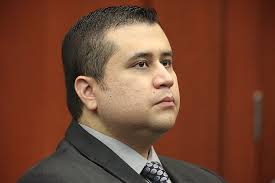 In order to not know about the George Zimmerman case you must have been living under a rock since February 26, 2012.  George Zimmerman fatally shot Trayvon Martin on that date in Sanford, Florida.  The public and the media tried him even before the official trial.  Everyone had their opinion on his guilt or innocence.  Well, the trial took place and the jury found George Zimmerman not guilty of 2nd degree murder and manslaughter.  They found he acted in self-defense.
There was an immediate uproar from those who wanted to see him found guilty.  And understandably there is a group of people who feel justice wasn't served.  The legal system in the United States allows someone to be tried criminally and civilly.  To be tried criminally, there has to be an alleged violation of a law.  It has to be proven beyond a shadow of a doubt to the jury for the defendant to be found guilty.  A person can be found not guilty criminally, but still face a civil suit.  Civilly a person can be found responsible for the death of another person by the preponderance of the evidence but not be found guilty criminally.  When someone is found responsible civilly for the death of another, monetary damages can be sought. 
For example, let's say Trayvon Martin was older and married.  His widow might have sued George Zimmerman for the amount of money Trayvon Martin would have earned over his lifetime to support his family. The situation is very similar to someone who has their earning potential diminished in an accident and sues the party responsible for lost wages.  It is highly unlikely that Trayvon Martin's family would ever see a substantial amount of money from George Zimmerman as he has been mostly unemployed since the initial incident.  However, the Brown and Goldman families used the civil court system for personal injury and sued O.J. Simpson for the wrongful deaths of Nicole and Ron and won.  They won a monetary award of $33.5 million dollars.   The award may never find its way to them, but it seems the victory of a guilty verdict is enough for many that go this route.
Civil charges for violating a person's civil rights can still be entered in the case of George Zimmerman.  The statute of limitations has expired for a wrongful death suit.  In Florida that statute is 2 years from the date of death, which would have been February 26, 2014.  This case may be far from over.