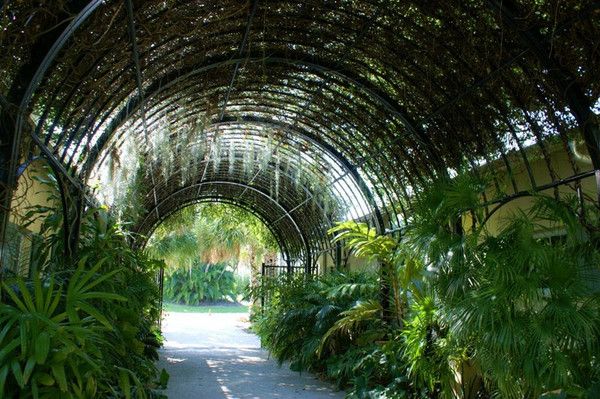 A mere thirty miles south of Melbourne, just off route 1, you will find yourself in Vero Beach. It is here that you will discover the McKee Botanical Garden, one of the oldest tourist attractions in Florida!
Originally established in 1929 as the McKee Jungle Gardens, it was developed with the help of William Lyman Phillips, often viewed as the creator of tropical landscaping. It was at this time that waterways and trails were established and both native and worldwide flora and fauna were planted. By the time the 1940's rolled around, upwards of 100,000 tourists visited the Gardens each year. Unfortunately, with the opening of some of the bigger theme parks in the area in the 1970's the Gardens had to close down. Of the original 80 acres occupied by the Gardens, all but 18 were sold off and developed. These final 18 acres sat around undeveloped and untouched for over 20 years. Things turned around in 1995 when the Indian River Land Trust purchased the land after leading a successful fund-raising campaign. The Garden's formal re-opening dedication was held in 2001.
Today the McKee Botanical Garden operates as a non-profit private cultural organization. It is open to the public Tuesday through Saturday from 10am to 5pm and Sunday's from 12pm to 5pm. Admission costs vary by date and are currently $7 for adults, $6 for seniors, and $4 for children ages 3 through 12 (under 3 are free). School and private tours are also offered. The Garden is filled with exceptional beauty that can only be truly appreciated in person. As a member of Florida's list of historical places, there are many renovated areas of the garden that are remnants of the original McKee Jungle Gardens.
In addition to tours, classes, and events held for visitors, the Botanical Gardens are also available to rent as a wedding reception location. Not only are the Gardens a beautiful place to celebrate a new marriage, there is also a caterer the Gardens work with exclusively. With reception rooms names like the Hall of Giants and Bamboo Pavilion, the Gardens are sure to make a memorable wedding locale.
Filled with numerous ponds, colorful flowers, and palm groves, the McKee Botanical Gardens is a place built for quiet reflection, learning about the beauty of nature, and celebration. Be sure to check out the Garden's website for additional details for wedding and party rentals, volunteering for and supporting the garden, and just more general information.