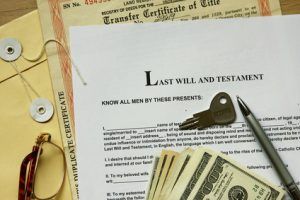 Talking about wills can be an uncomfortable conversation. Not only is it difficult to discuss life's uncertainties, but there are often more questions than answers when dealing with this subject. These five questions will help get you on the right path to understanding your will.
Do I Need A Will?
Yes. If you don't have one, the state will determine how your assets are handled, and sometimes it is granted to someone not known by you or your family. Generally, everything will go to your spouse, or children if your spouse is deceased. However, if there is a second marriage involved or there are minor children with no surviving parent, the rules change.
What Happens if I Die Without a Will?
If you die without leaving a valid Will, money and other property you own at death will be divided and distributed according to "intestate succession" laws of the state. These laws divide all property between a few close relatives according to a set formula, and completely exclude, more distant relatives, friends and charities.
Will I Have To Pay Probate Fees?
The key to avoiding probate costs is to have an estate or Revocable Living Trust. Probate fees vary from state to state and are based on property values. The Succession Tax Return determines fees for the state of Connecticut, and is normally quite nominal.
Where Should I Keep My Will?
You want to keep your will in a place that is safe and secure. A fireproof home safe or a safe deposit box is most common for holding important documents. However, no matter where you choose to keep it, make sure you let your family member(s) or close friend know where it's kept.
When Should I Review My Will?
Anytime there is a life-changing event: A name change, marriage, birth, adoption, a significant change in assets, retirement or a change in beneficiary status.
Should I Let My Children Know What's In The Will?
You know your children better than anyone else. If you feel there will be an issue between siblings, then they don't need to know the particulars. However, they do need to know where you keep the will. They will learn the details at the time the will is read.
If you still have questions and are feeling uneasy, get some legal guidance. You'll feel better in the end, and a lawyer can help you make the decisions that will benefit you and your loved ones the most.