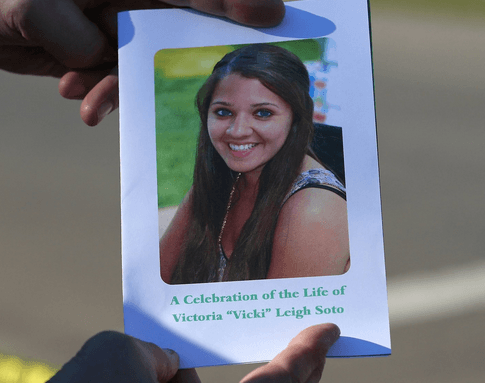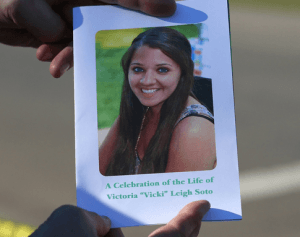 The shooting spree at Sandy Hook Elementary took many lives on December 14, 2012. The family of one of the victims is still trying to protect one of those lost lives. 27-year-old teacher Victoria Soto was killed trying to shield her first grade students at the Newtown, Connecticut school. The grief for Soto's family has been compounded by conspiracy theorists and random people harassing them online. In an effort to end the abuse, Soto's family has applied for a trademark for her name.
There are groups who mock the tragic shooting by alleging that it was a hoax. Social media is filled with hateful commentaries about it. Soto's family receives daily messages containing disparaging remarks. Fake social media accounts are being created in Soto's name with many alleging that the Sandy Hook shooting never happened. The family states that there have been as many as 158 false Facebook pages. Some of the pages are attempting to illegally raise funds. Soto's family has struggled to get the social media accounts taken down.
The Sotos were prompted to apply for a trademark largely because of the false Twitter accounts in Victoria's name. The culprits are tweeting allegations and conspiracy reports. The FBI investigated some of the accounts, but the hate-filled messages that the family receives are numerous. They suggested that the Sotos seek help from the hosts of the social networks. The networks have taken some of the fake accounts down. They are keenly aware that bogus profiles often crop up, but a large part of the problem with that approach is the existence of over 680 Victoria Sotos in the United States.
A trademark will provide protection for the use of Soto's name. However, the application process is not typical for a deceased person. Trademarks generally apply to products. Victoria Soto definitely was not a product. The protection is intended for goods and services associated with a name. Although there is a memorial fund in Soto's name that could qualify as a service, it would not pertain to the online abuse. And unfortunately, trademark law does not prevent people from writing about a good or service in a negative way.
Victoria Soto's family is still waiting to learn the outcome of their trademark application. It may take several months to find out if it will be granted. They are hopeful and feel that their decision was an important step in preserving the legacy of their brave loved one.