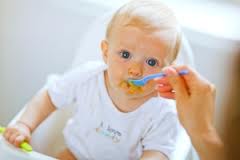 Gerber Products Co., Del Monte Foods and 14 other well known baby food companies are headed to court in California after being slapped with a lawsuit from the Environmental Law Foundation (ELF).  ELF claims their baby food contains lead that is above the warning limit requirement.  ELF wants the baby food manufacturers to place warning labels on their products alerting parents of the potential harm the lead could have on their baby's health.
While lead poisoning is on the decline since 1995, there are still over 300,000 cases reported in the United States each year for children ranging in age between 1 to 5 years old, according to a KidsHealth article posted by Yamini Durani, MD.  Children exposed to lead as infants can develop learning disabilities along with damaged kidneys and nervous systems.
Under the California Proposition 65, businesses are required to educate Californians on chemicals that are found in their products.  Over 800 chemicals are monitored by this proposition 65. Any food that contains a toxin greater than .5 micrograms per serving must put a warning label on their product.  Yet, the baby food jars do not have warning labels displayed even though the lead levels tested in their baby food exceeded that amount.
ELF collected 1,500 samples of baby food from the 16 different food companies to test for lead. The testing was conducted and analyzed by UC Santa Cruz laboratory.  Out of the 146 brands tested, baby food containing carrots, sweet potatoes, peaches and pears showed levels that ranged from 2 to 29 micrograms per serving.  Grape juice was also tested and showed alarming levels of lead.
Lawyers for the food companies argue that the U.S. Food and Drug Administration already tested their products and deemed lead levels to be below harmful amounts.  They further argue that the fruit and vegetables used in these products were organically grow and thus if lead was found present it was done naturally.
ELF is hoping to apply enough pressure to force these food manufacturers to responsibly inform their consumers about potential health hazards the lead could have on their babies through the use of warning labels.  By forcing baby food companies to put warning labels on their products, they hope this will encourage the companies to find a way to remove lead from baby food altogether.  James Wheaton, an attorney representing ELF commented "We don't allow lead in paint.  We don't allow it in gasoline. Why are we allowing it in baby food?"  The baby food companies only look to avoid having warning labels on their products which is sure to cause their sales to plummet.