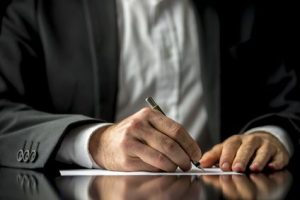 The definition of the Probate Court is: a court that is specialized to determine the distribution of a deceased person's estate.  That's the gist of it.  A Probate judge can determine who legally gets what; kind of like a family referee.   After reading about family squabbles over estate divisions, it's easy to see why the Probate Court system was created.  Even a deceased person who had a will prepared might not be able to spare their loved ones from squabbling over his or her estate.  It doesn't matter how much someone's estate is worth, families can argue over sentimental items as well. 
When dividing an estate amongst beneficiaries, the probate will first deduct the cost of the probate process from the estate as well as any outstanding debts.  In Florida, an executor of the will or personal assistant is appointed by a judge to administer the probate in conjunction with Florida laws.  A person's assets available for probate would not include joint assets, only sole assets are considered. If there is no will, Florida law states that a surviving spouse with no living descendants will receive the total of all assets.  If the surviving spouse has living descendants, the spouse receives half of the assets with the remaining half divided amongst the descendants.  If there is no spouse, but there are living descendants, those descendants have the assets divided equally.  If a deceased person has no living spouse or descendants, the assets go to his or her parents.  If the parents are deceased, the assets would go to siblings.  If there are no siblings, the State of Florida would pass the assets on to more remote relatives.
There are many things involved with settling an estate.  Some estates take longer than others to settle.  This is especially true if assets need to be sold to be divided up.  After any creditors collect what is owed to them, the IRS will determine if taxes are owed.  Any outstanding taxes will be satisfied from the assets. Any gifts made by the deceased person should be documented on the appropriate forms.  The paperwork involved in settling an estate is detailed.  It is always a good idea to retain an attorney to assist with these forms and the process in general.  The probate process makes the estate distribution more organized.  The probate process can even help keep the peace between squabbling family members.