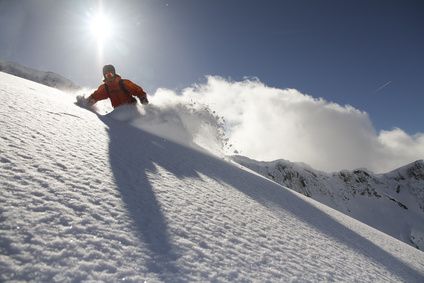 Most people think of Ski Town USA as Steamboat Springs, Colorado.  The Steamboat Ski and Resort Corporation trademarked the name in 1959.  Earlier this year, in order to entice more skiers to their city, the Visit Salt Lake organization started a campaign urging people to visit Ski City USA.  They advertised that once you visited Ski City you would never again visit Ski Town.
The Steamboat Corporation first sent a cease and desist letter and when they didn't get the response they wanted, decided to file suit. In the lawsuit, they allege trademark infringement and violation of unfair competition laws in that Ski City USA was an attempt to confuse consumers and leverage the highly successful and long-held brand.  Also named in the suit were Snowbird, Alta, Solitude and Brighton, which are areas close to Salt Lake City. 
In response, Visit Salt Lake said the marketing campaign, which cost almost $2 million dollars was an attempt to differentiate the nature of their city against the Colorado's resort more rural town setting.   In fact, when the new campaign was rolled out, they cited statistics from a local survey that showed more than 50% of the people erroneously identified a picture of the Salt Lake City, UT skyline as being Denver.  The purpose of the campaign was an attempt to educate and enlighten and they stated they don't believe any consumers would be confused by the two campaigns.
Note: Call Widerman & Malek now to if you need legal assistance with your trademark. 877-868-7239
After some pretty vocal back and forth, the matter appears to be settled.  The agreement is confidential, so we'll never really know what the negotiation points are, but in the end Visit Salt Lake will now use Ski City as its slogan, dropping the USA at the end.  Both parties released a statement praising each other in the settlement and of course, dropping in some free advertisement for why their resort is the best one in the US of A.
One can't help but speculate that perhaps Visit Salt Lake decided that negotiation was better than a long drawn out lawsuit, especially because Steamboat Corporation seems to be pretty aggressive when it comes to protecting their trademarked names. Champagne Powder (TM), anyone?  Using the name without the trademark symbol might just earn you a strongly worded cease-and-desist letter.
On an interesting and semi-related side note, Anheuser-Busch jumped on the bandwagon.  In September, they took over tiny Crested Butte, CO.  As part of its Up for Whatever campaign, they temporarily renamed it "Whatever, USA" and held a huge party, complete with a parade, the painting of the town Blue (literally) and of course – free beer.