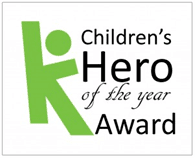 The law firm of Widerman Malek, PL is pleased to announce that they have been selected as a top 3 finalist for a 2016 Children's Hero of the Year Award presented by Eckerd. This award recognizes those unsung heroes that have dedicated their time, talent and treasure to the youth of Brevard County.
The finalist for this prestigious award will be announced at this year's Brevard Walk of Fame on Saturday, March 12 at the Radisson Resort at the Port. Widerman Malek's attorneys and staff value the importance of community service and supporting children in our community. They are honored to be nominated for this award.
Widerman Malek, PL maintains offices in Melbourne, Florida, Evansville, Indiana and in the Washington DC area. The firm practices in intellectual property, commercial litigation, land use, real estate, corporate formation, asset protection, estate planning, family law, government contracts and construction law. For more information about the firm, please visit the About the Firm page.