Contact
321-255-2332
jfrazier@uslegalteam.com
---
John M. Frazier, Jr. focuses on delivering a full range of litigation in both state and federal courts, including the United States Court of Appeals for the Eleventh Circuit and the Supreme Court of the United States. He also serves in advisory capacities for businesses and corporations, reviewing contracts and documents and providing legal feedback to aid and assist decision-makers.
John's areas of practice include corporate litigation and transactions, complex commercial litigation, real estate litigation and transactions, business representation, and maritime law. When John is not in the courtroom litigating on behalf of his clients, John is actively advising business entities and individuals about nearly every legal aspect of operating a business or contractual matters and how to handle when things inevitably go wrong: real estate disputes, employment issues, shareholder agreements, stock and asset purchase agreements, joint venture agreements, commercial leases, development projects, and breach of contract issues.
Prior to joining the firm, John operated Frazier Law, P.A. as a sole practitioner and was heavily involved in many areas of litigation and trial work; as a result, John has extensive trial experience and feels at home in a courtroom. John spent time as a "runner" for Widerman Malek in his youth and observed and began to learn how a law firm operates from the ground-up. John is the first and only attorney within his family and lettered in track and football, locally, at Melbourne High School. John has a strong commitment to his community and actively seeks out volunteering activities. He is most active in his role as a volunteer teacher for Junior Achievement of the Space Coast delivering K-12 programs that foster work-readiness, entrepreneurship, and financial literacy skills to local classrooms.
John is also an officer and acting legal counsel for Downtown Melbourne/Melbourne Main Street. Melbourne Main Street is a 501(c)3 non-profit organization that works to build public and private partnerships to revitalize Historic Downtown Melbourne. An accredited Main Street part of the National Trust for Historic Preservation, Melbourne Main Street's mission is to fuel economic growth by capitalizing on the community's assets and paying particular attention to the physical, cultural, and social identity of Downtown Melbourne. The Melbourne Main Street program was designed to enhance economic growth in the community through cultural events and social activities.
Lastly, John is driven by his passion to be a leader in the community and in the courtroom, so much so that John is a graduate of the Leadership Brevard Class of 2020; a program founded in 1985 to develop Brevard's top talent positioned to utilize leadership skills for the long-term benefit of the community. Outside of the law and philanthropic activities, John enjoys fishing, golfing, cooking (ask him about his BBQ sauce), technology, his family pets, and rooting for the Florida State Seminoles. However, more than anything else, John is motivated by his "why" which consists of his beautiful wife, Courtney, and their family.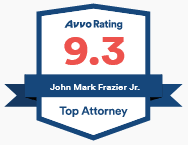 ---
About Me