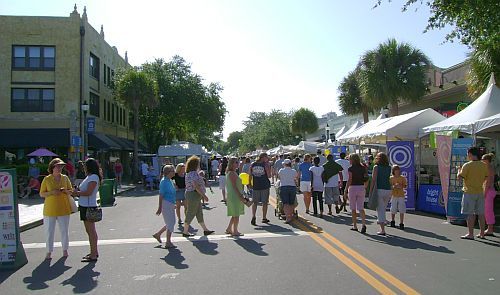 Looking for a great way to spend a weekend and support the community at the same time? Check out the 29th Annual Melbourne Art Festival, coming to town this year on April 27th and 28th. The festival is a nationally recognized event and admission is free!
The Melbourne Art Festival is full of great activities for everyone. The festival kicks off with its 5k Flamingo Run, starting at 7:30am. This race is one of the largest held in Brevard County. Over 1700 runners and walkers will be participating and it's not too late to enter. Fees for the event vary: $25 for individual runners (registered on or before April 19th), $23 for team members (minimum 5 per team, also registered by April 19th), $15 for runners 9 and under or 65 and older, and finally $30 for all runners after April 19th and on race day. Food and drinks are included for the participants after the race.
For the kids, free art workshops are available from 10am to 4pm both days. The workshops will be run by artists participating in the festival and are open to children ages 6 to 13. Class sizes are limited and registration is required at the Art Workshop tent. In addition, there is "KidsWorld" open to kids from 3 to 12 which offers various arts and crafts, demonstrations, and performances by local and nationally recognized artists. KidsWorld is open from 10am to 5pm and can be found on the corner of New Haven and Waverly Place.
Other attractions for the entire family include free concerts by local Brevard County musicians as well as the Georgia Satellites. The local entertainment line-up has yet to be announced. A food court is also made available. As a follow-up to the festival, there is the annual art auction held in the fall. Most of the artists with exhibits in the festival donate a piece of work to be auctioned at this event. Proceeds from the auction are used to fund students, teachers, and various art programs.
The Melbourne Art Festival is a great weekend event for all ages. Hope to see you there!
Widerman Malek, PL is a Law Firm located in the heart of Melbourne Florida. We practice intellectual property law (such as patent, trademark and copyright law) as well as civil law. Please do not hesitate to call on us for a free consultation.