Please join the No Bad Days Foundation, Widerman Malek and members of the Brevard County community for this annual fun day of kickball and other family-friendly activities!
Kickin' It For Hope Event Details
Saturday, February 8, 2020
Pre-registration: 9 a.m. ~ Games begin: 10 a.m.
Viera Regional Park
2300 Judge Fran Jamieson Way, Viera, FL (Click here for directions.)
No cost to attend the event.
Kickball Tournament Players and Teams: $60 per player – $500 per team (10 player team). Participants with disabilities play for free.
Food, music, kids entertainment area, and dozens of cash raffle items from local businesses!
Brevard County Sheriff Office's mounted posse, blood hounds, bomb unit and animal adoptions!
For further details, including registering a team for the kickball tournament and making a donation, please visit here.
Click here or the image below for the event information flyer (PDF).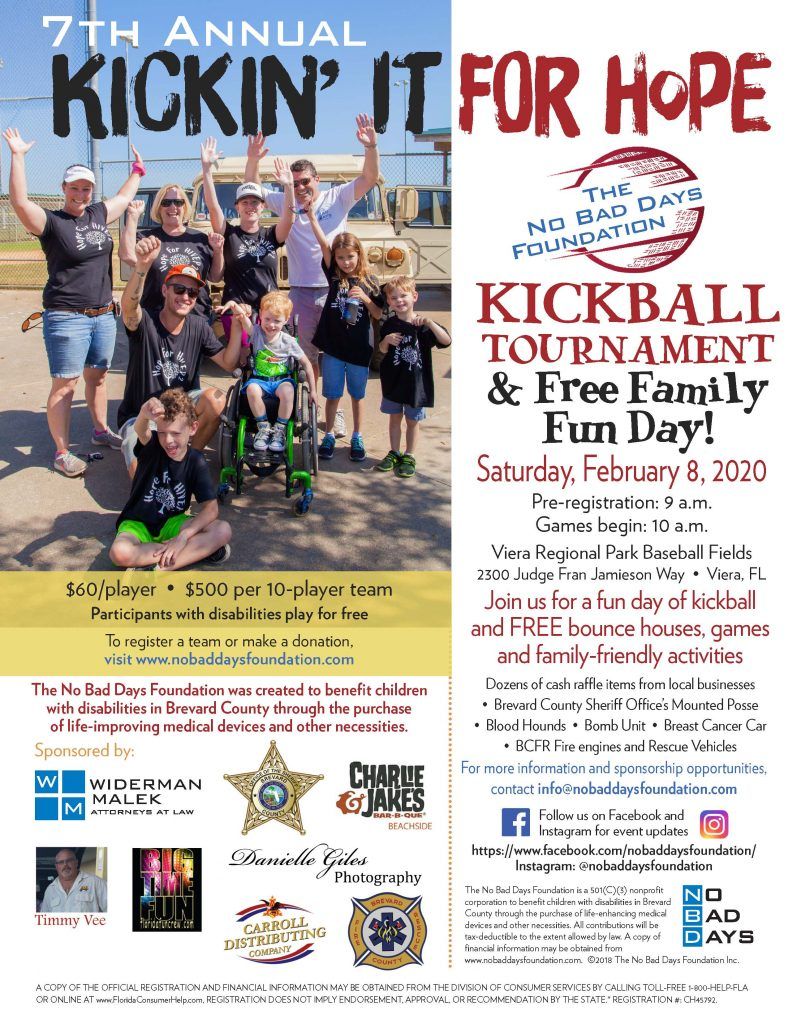 About No Bad Days
The No Bad Days Foundation supports children in Brevard County that have medical disabilities but are unable to acquire life-enhancing medical devices and other necessities. There are devices and equipment that could forever enhance the life of a child, but insurance companies may not agree that they are "medically necessary" and coverage is denied. The foundation raises funds to help families procure medical equipment and devices that provide a better quality of life for children with disabilities. No Bad Days is a 501(c)(3) and 100% of all monies collected from donations goes directly to the children.
Each year, No Bad Days hosts a kickball tournament and family fun day to raise money for purchasing medical devices and equipment for the children. They cannot do this without the community, and they are always grateful for your support. For more information about the No Bad Days Foundation, please visit www.nobaddaysfoundation.com.