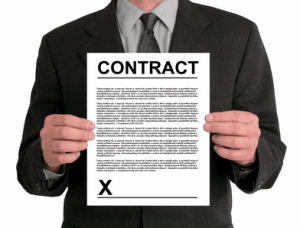 When considering getting into a contract with the federal government, you might feel intimidated. Are they actually speaking English in those things? You may be reading the words and they aren't making any sense. After all, the government has an unlimited army of lawyers at hand to write contract language and you are just a citizen hoping for a break. It is true that government contracts are cumbersome documents.  These are as complex as you can get. When a supply document is written for a government agency it is typically six printed pages and has at least twenty distinctive clauses. And these contracts are the standard ones. Those contracts written for specific situations are much more complex.
A contract written for specific circumstances or products can have more than 30 pages of specifications and special clauses. Trying to read these documents is almost impossible for someone who hasn't gone through law school. It is always a good idea to retain a lawyer to review these contracts before entering into them. It's easy to miss something in a contract that could cause a hardship if you aren't expecting it.
Government contracts are not complicated just to aggravate or confuse people. These contracts are written this way because the subjects they deal with are complicated. Those bolts that fit into a unique fitting in a battleship have to be spelled out in great detail.  Imagine if any part of the description was vague. Bolts could be delivered that wouldn't fit correctly and jeopardize the stability of the ship thus endangering the servicemen. The contract is written to anticipate any product irregularity and possible flaw. The items covered in some of these contracts will deal with huge numbers of products. How many bolts are needed for a battleship? You get the picture.
Another reason a government contract is complex is the government is responsible for making sure it is not being taken advantage of in any way. These contracts cover every conceivable situation that can occur. Many people are constantly reviewing the language in government contracts to make sure it keeps up to date with changes in technology and laws.
It makes sense that the government would be specific in its contract language. They are protecting their interests, and in doing that, our interests. The best advice in trying to understand a government contract is to have a lawyer review it.