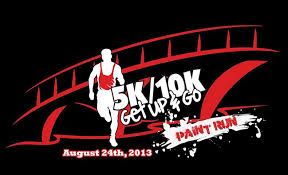 Running has been growing in popularity over the years with short 5k races to full marathons popping up all over the place. While running has always been great exercise, it has not always been the most fun sport to participate in or to watch. That is until fun runs were created and among those, paint runs!
Jumping in on this growing trend is Hope for North Brevard Inc. They are sponsoring their very own "Get Up & Go Paint Run" on August 24th. Founded in 2009, Hope for North Brevard (HNB) is a faith based non-profit organization whose mission is to support community services for youth & families and community restoration. All proceeds from the race will go to HNB.
The race begins at 6:30pm (with check-in starting at 5pm) at Veterans Memorial Park in Titusville, just north of Melbourne off 95. There will be two races, a 5k and 10k. Registration prices for the races are currently set at $35 for adults and $25 for students. On the day of the race fees will rise to $40 for adults and $30 for students. Online registration is currently available. As part of the entry fees, participants will receive a t-shirt, a paint packet, and a door prize raffle ticket; light refreshments will be provided. The top 3 male and female overall runners and top 3 male/female participants in each age group will also be receiving awards.
Guaranteed to be one of the most fun races you will ever take part in, there will be water stations along the race course along with paint stations. The "Paint Squad" will be showering all passersby with (100% safe) paints of all colors. Runners are asked to wear all white so that they will be as colorful as possible at the race's end and the fun does not stop there. The Paint the Town Block Party will be taking place from 5pm to 10pm to coincide with the race. The party will include food trucks, music and dancing, and keeping with the theme, painting the streets and sidewalks. There will also be kids activities and free kids races at 7:30pm with ribbons given to all racers.
While this paint run will probably not make for your best 5 or 10k time, it promises to memorable and more importantly fun! Made up of runners at all different performance levels, this type of race is more about the experience and helping to support a good cause, it is really a run with friends.