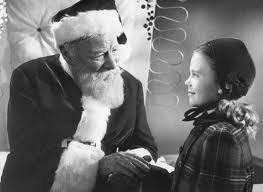 The other day I sat down to watch the classic 1947 movie, Miracle on 34th Street starring Natalie Wood, Maureen O'Hara, John Payne, and Edmund Gwenn.  For those who haven't seen this movie, it is an exceptional well acted film.  It is just a warm, good hearted movie that leaves you feeling happy after watching it.  I was drawn to the civil commitment proceeding part of the movie.  Huh?  A civil commitment proceeding makes you feel happy?
Well, yes in this movie it does.  The movie takes place during 1947 in New York City during the holidays.  Maureen O'Hara plays a single mom (Ms. Walker) that works for Macy's.  She is a non believer of Santa Claus and has thus made her daughter played by Natalie Wood, a non believer as well.  During the Macy's Thanksgiving parade a nice man who claims he is Kris Kringle steps in last minute to replace an inebriated Santa Claus.  From there, he continues to work for Macy's all the while trying to bring Christmas spirit back to the NY residents.  His ultimate goal is to convince Mrs. Walker and her daughter to believe in him.
Along the way though, his sanity becomes a growing concern as soon people realize he truly believes he is Santa Claus.  The next thing you know Kris Kringle is institutionalized and his sanity must be assessed in a civil commitment proceeding.
What Is Civil Commitment Proceeding?
Civil commitment proceedings are hearings in which a judge determines whether a person is of sound mind or is mentally ill.  Based on the judge's decision the Alleged Mentally Ill Person (in this case Kris Kringle) is either free to live as he pleases or must be confined to a mental institution.  In the movie Kris Kringle is examined at a psychiatric facility and found to be insane.  Then his case is brought before the judge for a hearing.
In order to proceed with a civil commitment hearing, the plaintiff must first file a civil commitment petition.  Then an investigator from the community mental health program is sent to examine the Alleged Mentally Ill Person.  Based on the investigator's evaluation the case may be dismissed without hearing, a hearing may be held, or it may be deemed the Alleged Mentally Ill Person enter a diversion program.  In the movie, Kringle gets a hearing and his lawyer played by John Payne argues he is not insane based on the fact that whom he claims to be is, is exactly whom he is.
In a civil commitment hearing, the Alleged Mentally Ill Person (defendant) is represented by an attorney and given the opportunity to bring in witnesses to defend his or her character.  It is important to note that if a person were to be committed, the conviction is not considered criminal and therefore will not be put on criminal record.  The reason for civil commitments is to protect Alleged Mentally Ill Person from hurting him or herself or from harming the general public.
Kringle's lawyer does bring forth character witnesses.  He also presents mail delivered from the US Post Office to Kringle as evidence proving that he is indeed recognized as Santa Claus by a branch of the government and therefore not insane.  In the end he is successfully able to prove that Kris Kringle is Santa Claus and the case is dismissed.  The movie ends with Christmas being saved and everyone believing in Santa Claus.  Like I said before, in this instance hearing the verdict of this civil commitment case made me feeling warm and happy inside. Yes, I do enjoy happy ending movies.
Helpful links:
http://www.oregoncounseling.org/lawsrights/civilcommit.htm