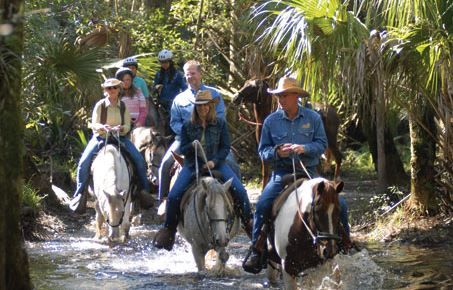 If you are getting bored of the beautiful sunrises over the water, amazing beaches, and fabulous restaurants that can be found in and around Melbourne, hop in the car and drive just 35 miles north on I-95. Here you will find the Ace of Hearts Ranch, providing eco-tours on horseback!
The Ranch is available for riders age 10 and up. Visitors get the chance to ride and explore a forest trail. Open daily, the Ranch's hours are 8am to 5pm, Monday through Saturday and Sunday from 2pm to 5pm. Rides are one hour in length and cost $30 per person. Reservations need to be made ahead of time to ensure the availability of the horses. Private rides are also available for up to four riders. Reviews from visitors have been wholly positive with the Ranch scoring five stars on Yelp. According to previous riders the horses are "well mannered" and "taken care of" and the experience was great, enjoyable, and relaxing. One reviewer even reported their ride lasting longer than the hour advertised making it well worth the cost.
In addition to offering trail rides, "Pony Parties" are available. The Ranch also provides inside or outside horse boarding in its stables or stalls. Hay and grain are included in the cost of the boarding. Give the Ranch a call for more information. On occasion the Ranch hosts various seminars, the last being a three day retreat into CranioSacral Therapy. Called a life changing experience, the workshop focused on the practice of relieving both physical and emotional pain in horses and their riders.
The Ranch also participates in Parelli, the "natural approach" to horse training. Started by the husband and wife team, Pat and Linda Parelli, this training method focuses on training the rider rather than putting the entire burden on the horse. It is an approach free from force, dominance, fear, intimidation, or coercion which should make every visitor feel great about riding these horses. Ace of Hearts Ranch owner, Sandra Vann is a certified Parelli Professional Instructor.
Need another reason to check out the Ranch? The great health benefits of horseback riding; it is considered a moderate intensity exercise (an hour of riding burns 360 calories!) and stimulates positive feelings. So what are you waiting for, check out the Ace of Hearts Ranch. As Winston Churchill once said, "There is something about the outside of a horse that is good for the inside of a man."