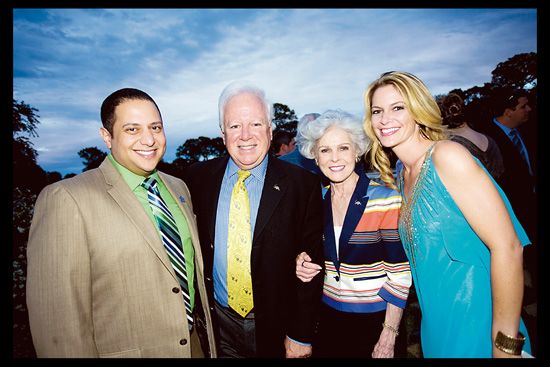 BREVARD – One special needs organization in Brevard County is $190,000 closer to meeting its goals, following an evening full of fun, food and fundraising.
More than 250 guests from throughout the Space Coast attended "An Evening of Hope IV" last month at the Melbourne home of Florida Tech Board of Trustees member, Joe Flammio.
The event, which was in support of the Scott Center for Autism Treatment at Florida Tech, brought in nearly $200,000 for the organization through sponsorships, an auction, individual donations and a Rolex watch raffle.
The Rolex, an Oyster Perpetual Explorer II men's watch, was valued at $6,325 and donated by Kempf's Jewelers in Indialantic, said Colleen Middlebrooks, outreach coordinator for the center.
Opened in October 2009, the Scott Center provides treatment, education and training for individuals with autism spectrum disorders and their families from Brevard, Indian River, Lake, Orange, Osceola, Seminole and Volusia counties.
The Center provides two overall types of service: behavioral and psychological, Ms. Middlebrooks said.
Within the behavioral services tab, its staff offers early intensive intervention, social skills, treatment of severe behaviors, toilet training and pediatric feeding, she said.
The psychological services program provides the diagnostics necessary to determine if a child is on the autism spectrum, counseling for family members of those with autism, as well as additional psychologist services.
"The overall goal for the Scott Center is a three-fold mission," Ms. Middlebrooks said.
The first is to provide individualized service to families; the second is to perform research on what helps children with autism; and the third involves the training of grad students at Florida Tech, as well as parents, teachers and the community.
The funds raised during the recent "Evening of Hope" event will benefit the center's pediatric feeding program, as well as help offset the operational costs of the Scott Center.
In place for nearly a year, the center's Pediatric Feeding Clinic focuses on the assessment and treatment of feeding problems that are commonly observed with children with autism, such as food selectivity, food refusal and inappropriate mealtime behaviors, Ms. Middlebrooks said.
Patent attorney Mark Malek of Widerman Malek, PL of Melbourne served as the event committee chairman for the event, while Creative Catering provided the food, Casbah Wines provided the wine, Florida Beer Company donated the beer and Emi Mae's Cakes and Goodies in Sebastian provided the desserts.
Published in Hometown News on May 11, 2012 by Tammy Roberts, Senior staff writer, troberts@hometownnewsol.com