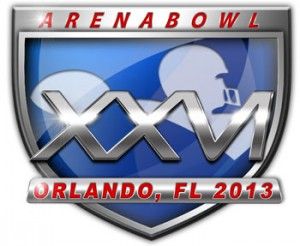 Are you ready for some football? If so, you are in luck, even before the professional football season starts! Orlando will be hosting the Arena Bowl XXVI this year at the Amway Center on August 17th at 1pm. It will air nationally on CBS.
The Arena Bowl is the Arena Football League's (AFL) equivalent to the NFL's Super Bowl. The Arena Bowl was first held in Pittsburgh in 1987 and has taken place almost every year since except 2009 when the AFL filed for bankruptcy and was going through changes in management. Currently consisting of fourteen teams split into two conferences (American and National) and then into two divisions (North, Central, South, and West), the regular season, made up of twenty games, begins in the second week of March. Post-season begins in August with four teams from each conference, two division winners and two wild card teams, competing for a spot in the Arena Bowl.
The two final teams competing in this year's Arena Bowl haven't been determined yet. The final four teams now in the playoffs are actually the last four Arena Bowl champions. The final two teams will be decided this Saturday with the Philadelphia Soul versus the Jacksonville Sharks (7pm) and the Spokane Shock versus the Arizona Rattlers (9:30pm).
For those living in and around Orlando, the Arena Bowl itself is actually only the culmination of events beginning on Thursday, August 15th with Media Day at the Rosen Centre from 1pm to 3pm. There will be team photos and interviews along with an appearance from the current AFL Commissioner, Jerry B. Kurtz. The day continues at 6:30pm with the 2013 AFL Celebrity Gala also at the Rosen Center and it promises to be a party with AFL Hall of Famers, former players, and the rock band KISS. The night will begin with a cocktail hour, followed by a three-course meal, live music, and an award ceremony. The long weekend continues on Friday night at 7:30pm with a KISS concert at the Amway Center.
Gameday events begins at 10am with the Arena Bowl XXVI Fan Fest, again at the Amway Center. Attendees will be able to enjoy a full "interactive Arena Football experience" with the chance to exhibit their football skills and learn more about the AFL. Live music and entertainment will also be on hand and the coveted Arena Bowl championship trophy will be on display and to get everyone ready for the big game in the afternoon
If you can't make it to the game, go for a Superbowl Sunday party in August. What better excuse to hang with friends, eat too much pizza, and watch a great game than Arena Bowl XXVI!