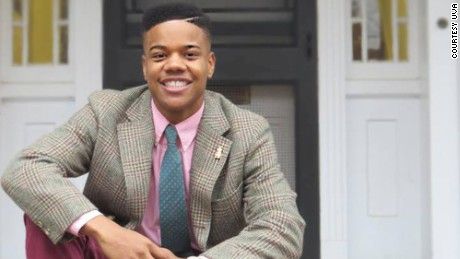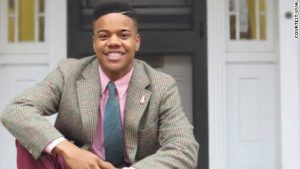 March 18th, earlier this year, a young University of Virginia honors student, Martese Johnson, was arrested outside an Irish Pub.  The 20 year old's arrest quickly went viral on the internet.  A graphic image of his bloody face was taken by "Concerned Black Students".  He received 10 stitches to his head and face.  The charges that were filed prompting his arrest were public intoxication and obstruction of justice.  Johnson is suing the Virginia Department of Alcoholic Beverage Control in the amount of $3 million for violation of his civil rights. 
He was arrested right outside the tavern during early morning hours.  Johnson was not allowed to enter the tavern and was suspected of having a fake ID (turns out his ID was valid).  Uniformed ABC agents approached him for questioning.  It isn't clear as to where these agents came from, if they may have been following him or not.  They were stationed at strategic locations that night as it was St. Patrick's Day, a day known for college binge drinking, and "happened to see" Johnson outside the location.  Apparently these agents have a reputation for wearing plain clothes and following students they feel may be violating the law as illustrated by the April 2013 arrest of Elizabeth Daly.   Agents thought her sparkling water was alcohol outside of a Harris Teeter grocery store.  She sued for $40 million in damages, but settled for over $200,000.
The obstruction of justice charges were ironically linked to the same incident that gave Johnson his stitches.  As he was being led away by ABC agents by his elbow, Johnson yanked his arm away.  But this seems like a normal response when being grabbed by a total stranger who had yet to identify themselves as said agents.  The agents then slammed his body to the ground, injuring his head and causing scarring that his attorney's now state have caused permanent disfigurement.
The charges against Johnson were dropped 4 months later, after the Virginia State Police reviewed the investigation.  But Martese Johnson is seeking civil compensation with a seven-count civil lawsuit including:
False arrest
Negligence
Excessive force
Failure to train (officers) or supervise
Negligent supervision or training
Assault
Battery
One good thing to come of this case is that on September 29th, the Charlottesville Attorney General unveiled an initiative that will provide law enforcement officers with evidenced based training opportunities that include impartial policing, bias awareness, the use of force and de-escalation efforts.