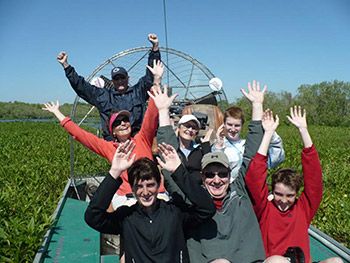 Airboat rides are a popular attraction for both residents and tourists of Florida alike. Melbourne has a number of great companies who provide these rides every day of the week. Airboats are popular in this area because they can go anywhere in the swampy lands to search out the wide variety of local wildlife in the area.
With the numerous companies who offer these rides, such as Air Boat Rides Melbourne or Camp Holly Airboat Tours, you have the option of having a personal tour or taking a more populous ride with other visitors. The typical tour can last anywhere between 30 and 120 minutes and costs somewhere in between $25 and $85 per person. Rides are offered first thing in the morning to catch spectacular sun rises over the wetlands, throughout the day when the wildlife in the area are most active, and at night when the gators are out hunting their prey.
Central Florida wildlife is some of the most diverse you can find in North America. Of course there are a lot of gators in the area, and they are always the most popular with tourists. With the average length of a male alligator reaching up to 15 feet and its no wonder why. Other animals you might catch on an airboat ride include birds of all shapes and sizes such as the Great Blue Herring and White Egrets, snakes, turtles, deer, and otters.
In addition to the scenic airboat rides many of the tour companies also offer duck hunting along with bass fishing expeditions. The duck hunting tours are guided and generally runs along the St. Johns River. Prices for the hunts can run between $300 for a day and up to $750 for two days. Duck species that can be found in Central Florida are teal, wood, wistling, ring necks, black bellies, mottle, and black. Hunting season runs between September and January. The bass fishing expeditions are given as half day or full day tours and can run between $150 to $550 depending on the company you tour with. These tours also begin with a ride on a airboat or bass boat and after an hour or so, patrons can fish in perfect, pristine waters. A relaxing day at its finest.
With the exploration of the unique sites and sounds of Melbourne and Central Florida, airboat rides are not just for the tourists but are a necessary trip for every resident to take as well. You can find all the companies who run these tours with a quick internet search, so if you haven't experienced one of the most interesting things to do in Melbourne, now is the time to give it a try!
Check out AirBoat Rides Melbourne