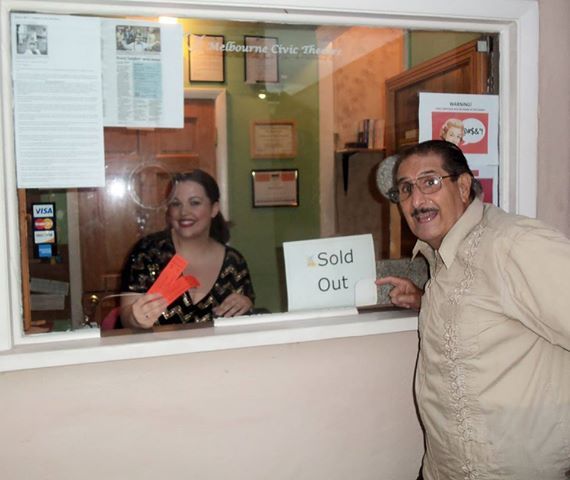 Melbourne's Melbourne Civic Theatre began its 2013-2014 season just a few weeks ago with Laughter on the 23rd Floor which ran from August 2nd through September 8th. While this first show has just completed its run, there are many more to look forward to this season beginning in just a couple weeks.
Started as the Indian River Players in 1951, the Melbourne Civic Theatre (MCT) adopted its new name in 1988. They currently perform in the 93-seat La Galerie on East Strawberry Avenue in downtown Melbourne. Show tickets are very reasonably priced at $25 for adults and $23 for seniors (aged 62 and older), military (active and retired), and students (must be full-time and aged 25 or younger) for individual shows. A season "flex pass" is also available at $115 for adults and $105 for seniors, military, and students. The "flex pass" allows entry into five performances, not including the holiday show.
The next show running in the 2013-2014 season is The Cocktail Hour, in production from September 28th through November 3rd. Performances will be held Friday and Saturday nights at 8pm and Sunday afternoons at 2pm. Written by A.R Gurney, this comedy is set in the 1970's and revolves around an upper-class family and the arguments that occur after they have consumed a few drinks.
Following The Cocktail Hour production is the MCT's holiday show, An Elvis Christmas Special, a musical variety show with special guest star Alfie Silva. Silva has starred in previous MCT productions as both Dean Martin and Tom Jones. The holiday show is one of the Theatre's most popular shows and is running this year from November 29th through December 24. Performances will again run Friday and Saturday nights at 8pm and Sunday afternoons at 2pm with additional shows on December 23rd at 8pm and on Christmas Eve at 2pm.
Additional productions rounding out the 2013-2014 season include There Goes the Bride in production from January 17th through February 23rd, The Full Monty running from March 21st through April 27th, and The Night of the Iguana concluding the season from May 16th through June 22nd. The MCT website has additional information and synopsis' for each performance along with open audition dates for anyone interested in participating on stage, and there is always plenty of backstage work needed. With a reputation for always putting on quality shows during its 55+ year run, if you haven't seen a performance yet, now is the time!