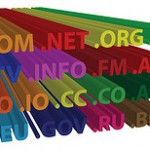 A domain name may be thought of as a human-readable address for a host computer that is accessible through the Internet.  You probably recognize many of these domain names practically as household words:  www.google.com, www.craigslist.org, www.legalteamusa.net.  (Hey, I had to try.)
Cybersquatting refers to the practice of registering a domain name on the Internet for the sole purpose of selling or licensing the domain name at a profit to a person or entity wishing to use it for Internet presence identification purposes.  This practice often runs afoul of trademark law …, in that the owner of a trademark (that is, a word, phrase, symbol or design, or a combination thereof, that identifies and distinguishes the source of particular goods and/or services) may have a cause of action for infringement against another who registers a domain name that is identical or confusingly similar to the owner's trademark.  Gauged by the record 2,884 cases of alleged cybersquatting handled last year by an arbitration arm of the World Intellectual Property Organization (WIPO), the problem of cybersquatting is real and growing.
New TLDs
A Top-Level Domain ("TLD") is the portion of a domain name to the right of the dot in an internet address.  Since the Internet Corporation for Assigned Names and Numbers (ICANN) took over coordination of the Internet domain name system in 1998, the available generic top level domain (gTLDs) names have been limited to roughly a couple dozen options, such as the familiar .com, .net, .org, and .info.  But in January 2012, ICANN began accepting applications from individuals and companies for new TLDs that include generic terms such as .bank, .pizza, and .hotel; and also vanity names like .mastercard, .subaru, and .starbucks.  Predictably, thousands of new registrations for domain names have created the potential for a trademark infringement and cybersquatting nightmare.
Trademark Clearinghouse
So what is a trademark owner to do to protect the company's rights in light of the TLDs expansion?  ICANN has created a centralized trademark registration depository, called the Trademark Clearinghouse (TMCH), which mark owners may use to submit their trademark data, prior to and during the launch of new TLDs, in order to register domain names that match the owner's trademark before cybersquatters get a chance to do so.  More on the mechanics of employing the TMCH next time.  But in preparation for identifying domain names that may be important to your business's intellectual property (IP) strategy, a business owner should take an accurate accounting of marks currently used (and/or projected to be used) in the ordinary course of the business.  Both your marketing department and your legal counsel may be good sources of input to an assessment of the branding artifacts that the business plans to use in commerce and/or that the business would like to deny potential competitors.
(photo credit: http://www.flickr.com/photos/bloggingbookshelf/5910411419/in/photostream under http://creativecommons.org/licenses/by/2.0/legalcode)