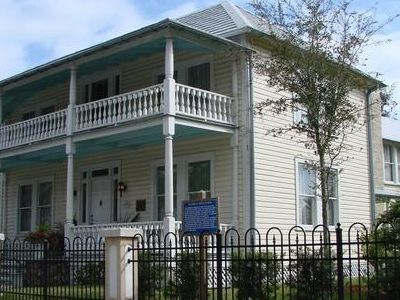 Nestled in the heart of Melbourne, in what was once the center of Eau Gallie, rests the city's mother of pearl, the old Rossetter House. The historic Rossetter House is a Victorian beauty. Built in 1908, the prominent house surrounded by beautiful country gardens was built for James Wadsworth Rossetter, his wife Ella Maude and their growing family. The Rossetter family occupied the house for over 90 years. The daughter of James and Ella, Carrie Rossetter lived to be a very successful businesswoman and community philanthropist.
Before her death, Carrie Rossetter saw to it that her family homestead remained preserved, by registering it as a historic home with the state of Florida. Upon her death the Rossetter House became a museum and function venue. Today, this lovely picturesque house is boasted as one of Melbourne's best wedding venues. One look at this venue and you can see why.
The Rossetter lawns and gardens are absolutely stunning. It is the perfect backdrop for a romantic wedding ceremony. The spacious lawns can seat up to 100 guests comfortably and parking on location is provided. The Rossetter house offers the bride and the groom, the use of tents, chairs, dance floors, DJs, and refreshments. The house also has a dressing room designated specifically for the Bride and her bridesmaids to use prior to the wedding ceremony. Another room inside the house functions for the wedding party to mingle and greet arriving guests.
Besides the beautiful location, the main reason the Rossetter House appeals to so many happy couples, is the reasonable rental pricing. With the average wedding across the nation costly more than a down payment on a new home, hearing the friendly venue rental pricing of the Rossetter House is just sweet music. The grounds and house can be rented for four hours for only $600 (not including set-up or breakdown time or tax). The price is very affordable especially for the immaculate condition of the gardens and the house. Only a $200 deposit is required along with obtaining mandatory insurance coverage. It is no wonder, this venue is so highly sought after. Happy couples definitely get the most bang for their buck with this wedding location.
If interested in finding out more about their wedding or other services, you can contact them at 321-254-9855 or visit their website at http://rossetterhousemuseum.org.