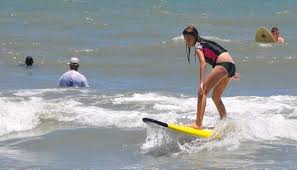 School is out for the summer.  The time of year which parents dread.  The kids are home all day and the parents have to work.  Who is going to watch the children?  They certainly can't leave their children unsupervised.  What are parents to do?
Send the children to Surf Art Camp!  Surf Art Camp located at Beach Place Guest Houses at 1145 S. Atlantic Ave in Cocoa Beach is owned and managed by local community artist Mary Moon.  Mary Moon offers children fun filled days where they can surf the waves and create art.  Her camp offers the perfect combination for students to utilize both the body and mind.  Students burn off energy while riding the waves under the guidance of a trained surf instructor. Instead of being indoors playing video games, the kids are outdoors enjoying the sun and fresh ocean air.
Along with surfing, students take art classes taught by Mary Moon herself.  They learn different art techniques from mixed media, water color painting, sculpturing, and environmental art.  With Mary's 30 plus years of art teaching experience, the children are definitely in good hands.
Each session runs Monday thru Friday from 9am to 3pm throughout the summer months.  The cost per session is $295, with board rentals costing an additional $25.  The days are scheduled for half the students to surf in the morning for two and half hours, while the other half creates art.  Then both groups break for lunch for an hour.  After lunch the groups switch activities so that each day students have the chance to surf and create art.  Please note that all Surf Art Camp counselors are first aid and CPR certified.
Parents interested in sending their children to Surf Art Camp can contact Mary at Marymoon@marymoonart.com or call her directly at 321-799-3432.
This article is courtesy of Widerman Malek, PL, a patent law firm, copyright law firm and trademark law firm located in Melbourne Florida.