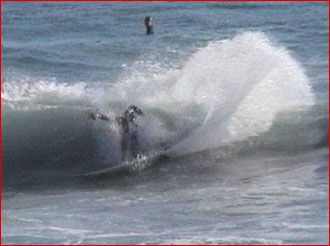 With the longest coastline of all of the fifty states (1,350 miles), Florida has no shortage of water sports and activities to participate in. One the oldest and still most exhilarating of these is surfing. Luckily, with just a short ride over to Melbourne or Cocoa Beach, those who want to learn how to hang ten have an array of surfing schools to check out that will get you up on a board and riding waves in no time. Keep on reading to find out a little bit more on some of the best surf schools in the Melbourne area.
SurfGuys Surf School, in business since 1997, conducts its classes on Cocoa Beach and Melbourne Beach. Lessons are offered for both adults and children (ages 6 and up) by the hour or as week long camps. With the hourly lessons, you can choose to have private instruction or classes of up to three persons. For the really adventurous, Surfguys also participates in Costa Rica surfing vacations for 7 days of surfing in the warm beautiful waters, beginners through advanced are welcome!
With over ten years in the business, Nex Generation Surf School in Cocoa Beach has you covered. They offer lessons with both long and short boards and provide soft boards to those who do not have their own. Like the other schools, private and group lessons are available along with week long camps. Nex Generation also offers full day and half day camps along with weekend camps and surf clinics.
With their passion and love for the ocean and surfing, the instructors at Cocoa Beach Surf Camp will get you up on your board in no time. They offer private lessons for one to two individuals or group lessons for up to four. Lessons are offered at Cocoa Beach, Melbourne, and Indialantic. And just like their name says, surf camps are held during various weeks throughout the summer. In addition to private and group lessons, surf clinics and corporate lessons are available year round.
Surfing exercises the mind as well as the body and soul, it is not unusual for a person to form a quick addiction to the sport. As the inspiration for both skateboarding and snowboarding, surfing is an important American pastime. Get in on the action and found out what it's all about! Check out the surf school websites or give them a call for rate information and other questions. You will be catching gnarly off the hook waves in no time!