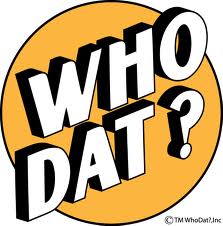 Who Dat!"- The supporting cry for the New Orleans Saints is actually trademarked by a few San Antonio musicians.  In 1983, Steve and Sal Monistere recorded their own version of "The Saints Go Marching In" with a "who dat" chant in the song and shortly thereafter trademarked both the "Who Dat!" And "Who Dat?" phrases.  The full chant in the song is: "Who dat? Who dat? Who dat say dey gonna beat dem Saints?"  Ironically, Saints players and even the famous Aaron Neville helped to record the song.  However, it was only the two musicians who thought ahead and actually filed the trademark.
Over the years, Who Dat?, Inc, the company owned by the Monistere brothers, have successfully sued business owners, small shops, merchandisers and even the NFL over the usage of Who Dat in products that are being sold or even used in the name of the business.  After a big lawsuit involving the NFL, who used the "Who Dat" phrase in Saints merchandise, the Monistere brothers worked out a settlement deal whereby both parties can use the term.  To date, over 40 companies pay royalties to Who Dat?, Inc for use of the phrase.  In turn, the Monistere brothers have agreed that usage by loyal Saints Fan is not a violation of their trademark and only intend to target those who wish to make money off the phrase. 
One of the most popular defense reasons for using the "Who Dat" phrase is that the phrase is actually in the public domain and should not be considered for trademark protection.  Football fans use the phrase all the time and it's heard in sports pubs and bars by loyal Saints fans.  Small business owner and attorney, Darleen Jacobs, argued that the phrase can be found in 19th century poetry and is therefore outside of trademark protection.  However, these defenses have never really held up and businesses such as the NFL and MTV continue to pay royalties for use of the phrase.
The most recent lawsuit originates from Slidell, Louisiana, where Ronnie Dunaway owns the Who Dat! Shoppe.  Dunaway filed suit in federal court recently and does not use the normal public domain argument.  Instead, he claims that Who Dat?, Inc literally went out of business from 1993 to 2009, which also means they abandoned the trademark.  The Who Dat! Shoppe was created in 2007, during the time Dunaway claims the trademark was abandoned.  Time will tell if his argument is successful.