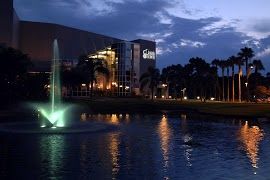 The Maxwell C. King Center for the performing arts is owned by Brevard Community College and is located on the Melbourne campus at the corner of Post Road and Wickham Road. The facility was built in 1988 and is 100,000 square foot in size with six stories. The building holds both the main theatre with 2,016 seats and a more intimate space, the Studio Theatre, with 250 seats. Between these two venues, patrons can find broadway musicals, plays, symphonies, opera, and dance to name just a few of the types of shows offered here. Whether you are a fan of ballet or bluegrass, you can find it at the King Center. This summer's line-up is no different, below are a few of the shows being offered during the summer months. You can find the entire line-up on the King Center website.
If Stevie Ray Vaughn is your type of music and if the album Texas Flood is a favorite of yours, you need to check out Classic Albums Live performing at the King Center on Friday, June 21st. Classic Albums Live, founded in 2003, is a group of various musicians playing covers of some of the best albums ever created without playing into any gimmicks. Classic Albums Live is all about the music; they are dedicated to reproducing "note for note, cut for cut" the music as you know it and love it, live and on stage. Beginning at 8pm on the main stage, tickets for this event range between $24.75 and $29.75. Classic Albums Live will also be back on July 27th covering The Beatles' Sgt. Pepper and again on August 17th playing Pink Floyd's Animals and Dark Side of the Moon.
This year's Summer Musical Theatre Project is presenting Hairspray on the main stage at the King Center from Friday, July 19th through Sunday, July 21st. The shows are the result of a five-week project open to high school freshman through college juniors. The project begins with auditions on Monday, June 17th and culminate with the final performances in late July. The Friday and Saturday shows begin at 7:30pm and the Sunday show is at 2:30pm. Tickets for the show are a steal, ranging from $12 to $17.
Rounding out the summer is Kevin James, performing his stand-up routine on the King Center main stage on Thursday, August 22nd. Kevin James is best known for staring in the CBS sitcom King of Queens but has been performing stand-up long before he became a household name. The show starts at 8pm and tickets begin at $43.
With Facebook reviews like "best place to watch whatever you like" and "AWESOME!!!", a night or afternoon out at the King Center promises to be a good time. So if you are looking to escape Melbourne's hot summer heat, be sure to check out a show!