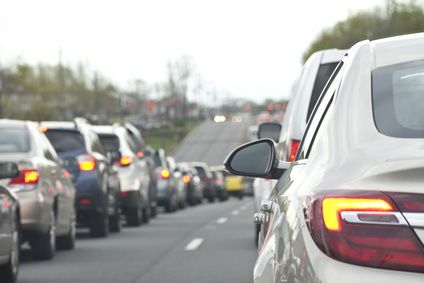 The holidays are upon us.  As people are dashing to and fro, desperately trying to finish their shopping, the roadways are clogged up with more than the normal amount of cars.  It is also a time of year when deliveries by truck are at an all-time high.  Add to this, the fact that we all don't go to Grandma's house on Christmas Day by traveling over the river and through the woods, it takes forever to get anywhere causing frayed nerves and tempers.  Not a great combination for safe travels.
As you head out to your holiday destinations, there are some things you can do to make sure you stay safe and accident free.  Far and away the most important tip is to give yourself plenty of time.  Whether you are traveling by plane, train or car, make sure you are not rushing around.  Rushing leads to carelessness which leads to accidents.  Travel at a reasonable speed.  You will get where you are going. 
Perhaps you are bringing along gifts for all the branches on your family tree.  Unless you are renting a moving van, chances are you will be packing them, as well as your family, into the family car.  Do you have enough room?  Make sure you are leaving adequate visibility to see behind you as well as on all sides.  And if you are using one of those roof carriers, make sure it is secure.   The last thing the car behind you wants to see is that roof carrier coming at them at 65 miles per hour.
Of course, when traveling at this time of the year, the weather is always a consideration.  If you are from Florida or any southern state you might not be familiar with slippery condition on the roadway.  SLOW DOWN!  If you feel your car losing traction, slow down!  Don't worry if the other cars are zipping by you looking annoyed, be safe and only drive at a speed that you can handle under the conditions.
Let's not forget another big reason for accidents on the roadways during the holidays; alcohol.  Yes, you will most likely have some of that spiked egg nog or partake in a toast or two.  Remember, do not drink and drive.  And if you don't drink and drive, watch out for other drivers who might not be so sensible.  Be observant and careful and have a safe holiday season.