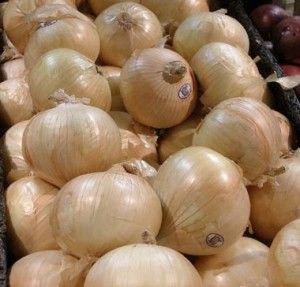 It's that time again – fresh, sweet Vidalia onions are in supermarkets all throughout Florida.  Just thinking about onion and cucumber salad or home-fried onion rings made with these tremendously tasty onions are enough to set anyone's mouth to watering. Yet, very few people realize that not every sweet onion on the grocery store is a Vidalia onion.  The Vidalia onion is a very specific trademarked brand that has quite a few restrictions on it and is very closely watched to make sure other onion growers do not mistakenly brand their sweet onions as Vidalias.
Here are some Vidalia onion facts:
The first Vidalia onion was grown in Vidalia, Georgia in 1931 by a farmer named Mose Coleman, who used a hybrid type of onion that came from Texas.
By 1940, Georgia built a farmer's market in Vidalia.  Vidalia was at the crossroads of several highways and was therefore a good stopping point for travelers through the region.
The Piggly Wiggly supermarket was the first major grocery store chain to sell these onions and distributed them throughout their stores, but only during the growing season of May and June.
By the 1970's and 1980's growers started to band together to market these onions nationally.  They created onion festivals, a brand name, a logo and a definition of what a true Vidalia onion means. President Jimmy Carter even used to send bags of Vidalia onions to others as gifts.
By 1986, University of Georgia students, employees of the US Department of Agriculture and employees of the Georgia Department of Agriculture banded together and pushed forth the Vidalia Onion Act.
This act specified that Vidalia onions can only be grown in a twenty county region.
This act also gave the Georgia Department of Agriculture power of the brand name of "Vidalia".
In 1989 federal protection was granted to the Vidalia onion and created the Vidalia Onion Committee.  This protection is very similar to the protection granted to the Florida citrus crops.
In 1992, the state of Georgia was identified as the owner of the Vidalia onion trademark.
By the year 2013, the Vidalia onion crop brought in approximately $150 million dollars per year.
However, there is some contention going on.  According to the rules, Vidalia onions aren't allowed to be sold until a specific date set by the Georgia Department of Agriculture.  In 2014, it was April 21st.  After complaints from local Vidalia farmers who wished to start selling if the crops were ready prior to that date, the Georgia Department of Agriculture made a decision that the April 21st date was firm. They believe this date ensured that only the best and tastiest crops get to the supermarkets, which means that customers remain satisfied with the Vidalia brand.
Local Vidalia farmers did not like this answer, so they took the state to court.  The first ruling, made last month by a county judge, sided with the farmers.  The state of Georgia is appealing the first ruling.  Until the case is settled, the first date you could buy one of these delicious vegetables was April 21st.