Before starting my legal career, I often wondered how many civil cases actually go to trial.  I knew the number was small, but how many actually end up in trial.  Why is the number so small?  Is it just costs?  For the ones that do make it to trial, are they mostly bench trials (decided by the judge) or jury trials?
I was often told that the number of cases that settle prior to trial was at least 90%.  If you do a search on the internet, I'm sure you'll see almost an infinite amount of articles, blogs, and more that will agree with that number and most will likely say that the number is closer to 95%.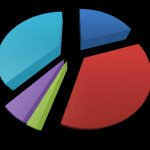 Fortunately, in Florida we do not have to wonder.  The Florida Office of the State Courts Administrator keeps track of a plethora of statistics on the state court system.  In the fiscal year of 2010-2011 (July 2010 to June 2011), the trial courts (circuit and county) in Florida disposed of 2,774,302 civil cases (not including probate, family court, or civil traffic infraction cases).  Of that, only 1,049 were disposed by a jury and only 4,348 were disposed through a non-jury or bench trial.  So out of all the cases disposed during the 2010-2011 fiscal year, less than 0.2% made it to trial.  As for settling prior to trial, just looking at Circuit Civil alone (not including probate, family court, or civil traffic infraction cases),  9.9% of cases settle prior to other disposition and 1.2% settle through mediation.  So nearly 90% of all civil cases in the state circuit courts (not including probate, family court, or civil traffic infraction cases) fail to settle or make it to trial.
So why is the percentage of cases that go to trial so low?  One part of the equation is that many cases are abandoned, refiled, or merged into others.  Sometimes the reason for the lawsuit no longer exists, i.e., the other party dis something or stopped doing something that created the need for the lawsuit.  Costs certainly play a big factor in why cases don't make it to trial.  Another big factor is the risk to reward ratio.  It simply doesn't pay well to go to trial under many circumstances.  Often times the amount possibly won at trial will not be much more that a settlement offer.  There is also the risk of a judgment that is less than 25% of a settlement offer. Section 768.79, Florida Statutes, states that when a judgment for a plaintiff is less than 25% of a settlement offer, attorneys' fees will be awarded to the party who made the settlement offer.
So if the odds are that your case is not going to trial, why is it important to hire an experienced trial attorney? First of all, your case may still end up in that small percentage of cases that go to trial. Secondly, there are other alternatives to trial, such as arbitration or mediation and an experienced trial attorney will likely be experienced in trial alternatives as well. Finally, keeping your options open is always a good thing.
*For further court statistics, including criminal, probate, and family court case statistics, visit the Florida State Courts website.