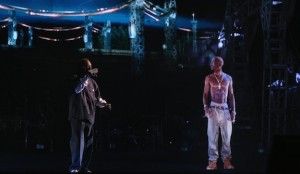 In 1991, Natalie Cole made headline news when she recorded the song "Unforgettable" along with her father, who had passed away years before.  He was not only on the sound track, but with the advances in technology, was present in the video as well.  It's now 2014 and technology has continued to advance in the form of real-life appearing holograms.  This technology first debuted in prime time in 2012, when a hologram of the late Tupac Shakur was used at the Coachella music festival, to the absolute thrill of Tupac fans.
The present exclusive licensee of the hologram patent, Alki David, and his company FilmOn are no strangers to controversy or lawsuits. In fact, FilmOn, which streams live television to its paying customers, has been sued by every major television network, including CBS, Fox, NBC and ABC for copyright infringement.  He settled the lawsuits related to his live TV streaming and has now moved on to hologram technology.  In fact, he initially proposed to bring back Amy Winehouse in hologram form to perform with Flo Rida as one of the first shows. 
In a recent development, David, has decided to go on the offensive.  On behalf of FilmOn and Musion, the hologram-film company which initially filed the hologram patents, he filed suit against Cirque De Soleil and MGM Resorts. David alleges that the final scene in Michael Jackson: One, a Cirque De Soliel featured performance, where a hologram is used to bring Michael Jackson to the show infringes upon the Musion hologram patents. David claims that "Musion Eyeliner uses a patented system to project three-dimensional images virtually indistinguishable from real life bodies."  He goes on to further state that the technology used to create the image of Michael Jackson is the same as is patented by Musion and that MGM Resorts and Cirque De Soleil do not have a valid license to use that technology.  He states that this is the first of many patent infringement lawsuits he plans to file.
In another recent development, the proposed Amy Winehouse/Flo Rida show has been put on indefinite hold.  Apparently, Amy Winehouse's father thought the idea was ridiculous and tweeted that there was no truth to the rumors of a show.  Amy Winehouse's father does have full rights to Amy's likeness and without his blessing; no show is going to happen, no matter how much the flamboyant David promises the world.